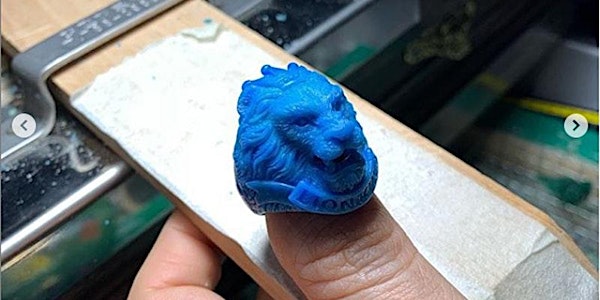 Multiple dates
Introduction To Lost Wax Casting
Introduction to Lost Wax Casting. This course runs for two non-consecutive days: 2.5hours / day. Total cost fee: $340 for a two day sessio
By The Imperial Smithster
Date and time
Sat, 26 Mar 2022 11:00 - Sun, 29 Sep 2024 22:00 +08
Location
229 Joo Chiat Rd 229 Joo Chiat Road Singapore, 427489 Singapore
Refund Policy
Contact the organiser to request a refund.
About this event
About this event
Basic Lost Wax Casting.
This course runs for two non-consecutive days: 2.5hours / day. Total cost fee: $340 for a two day session.
Outline of course: Lost wax casting has been around for centuries and have been used since the early days to cast items such as weapons, sculptures and jewellery out of brass. It involves first, sculpting of a wax model, applying the right sprues, pouring a investment over the wax model, burning out the wax (hence the termlost wax casting), then pouring in molten metal into the cavity left by the evacuated wax.
Detailed Description:Day one1-Learn basic wax sculpting methods. Introduction to the various tools used in wax carving, mainly used in the addition, subtraction and polishing of the finalwax model. Participants will get their very own piece of wax block to practice on.2-Learn the correct methods of spruing. Wrong spruing leads to a whole range of issues, from incomplete fills to shrinkage porosity, do it right the first time!3-Practice the safe and hazard free method of investing. (Investment powder contains elements that are hazardous to your health, learn how to handle properly)4- Leave to burnout
Want to do 3d design and 3d printing instead? The wax carving portion can be replaced with design and printing with Rhinogold software.
Day Two-Learn of the different types of metal and their properties.5- Get to melt metal and cast into the wax model done from the previous day (subjected to workshop schedule).6- Final polishing. Get an in depth look at the various techniques used in jewellery finishing and polishing.
Keep your final product and the knowledge acquired!
*Dont see a date you want? Feel free to contact us
*Up to 8g of silver is provided or 30g of brass
** Do ensure that the provided email is in use , for in the case where we would have to contact you if there'll be any change in our workshops' schedule.