Event Information
Location
Fawn Labs
71, Tras Street
#2B
Singapore, 079010
Singapore
Refund policy
Contact the organiser to request a refund.
Eventbrite's fee is nonrefundable.
Kombucha - the elixir of life and it does miraculous wonders to your body! Learn how to make your sparkling Kombucha and drink it at home!
About this event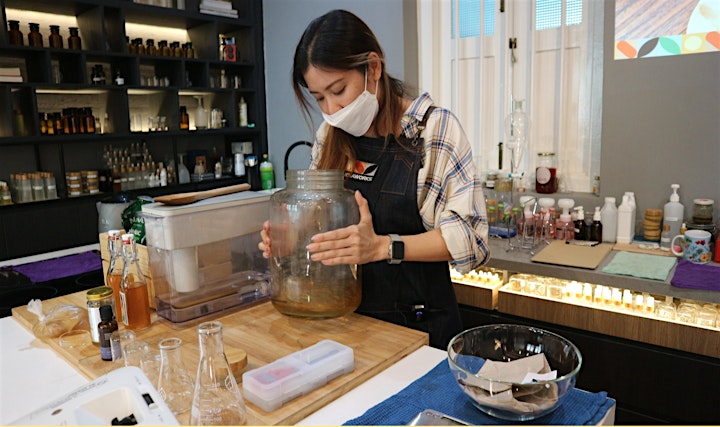 Brew Your Own Kombucha - attend our Kombucha Workshop and learn how to make your yummy, fizzy and healthy drink at home!
Kombucha [KOM-BOO-CHA] is a delicious artisanal drink and is fermented tea which is rich in probiotics, enzymes, and vitamins - filled with tremendous health benefits such as improved digestive health, strengthened immunity and energizing properties. It is made with tea, sugar and a SCOBY (Symbiotic Colony of Bacteria and Yeast) through a fermentation process and has a distinctive tart and sweet taste - similar to apple cider. It is popular in America, Australia and Europe and is gaining popularity in Singapore for its health benefits such as improving gut health, immunity and joint health.
Learn the art of fermenting kombucha with black tea and take home a Kombucha Brewing Kit with your Kombucha SCOBY. You will be taught the tools, ingredients needed and the step-by-step hands on process in kombucha brewing. At the end of this class you'll have the recipes, tools and confidence to make batches of your own kombucha for yourself and family, at a fraction of the cost of buying it bottled.
During the workshop you'll enjoy a complimentary kombucha drink. Your fermentation expert will run through the basic recipe and techniques required for a healthy brew and explain the role of the SCOBY. You'll make a black tea kombucha and take home your brew and your very own SCOBY to get you started on your kombucha journey.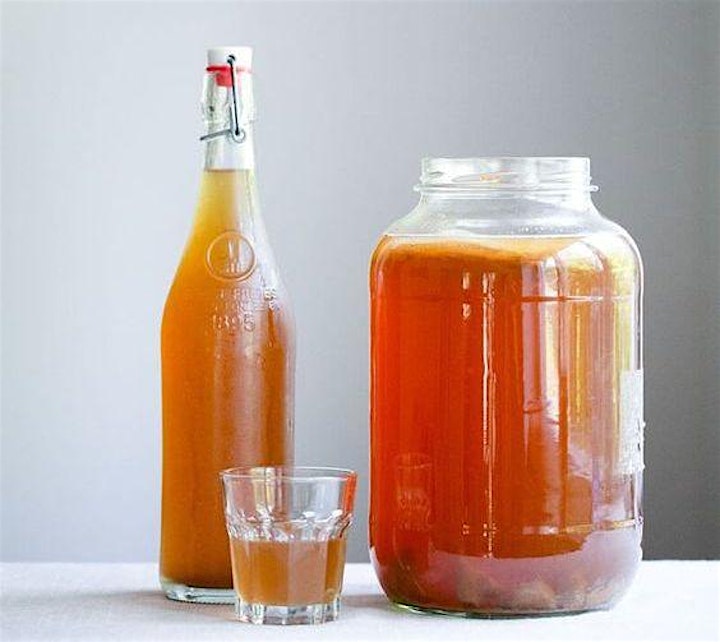 This is a physical workshop. In this 120 minutes workshop, you will learn:
Introduction of Kombucha
The history and science behind Kombucha
Uses of SCOBY and how to maintain it
About yeast, bacteria, pH, sugar, vitamins, probiotics, health benefits of Kombucha
How to control your culture, taste, colour, fermentation speed, carbonation, shelf life and food safety
Hands on Kombucha brewing session with insider tips to get a 100% successful brew
Understand what to watch out for to ensure your brews stay healthy brew after brew
Tasting session of kombucha Works Kombucha
Kimchi tasting
Hands on Kim Chi Making using Kombucha.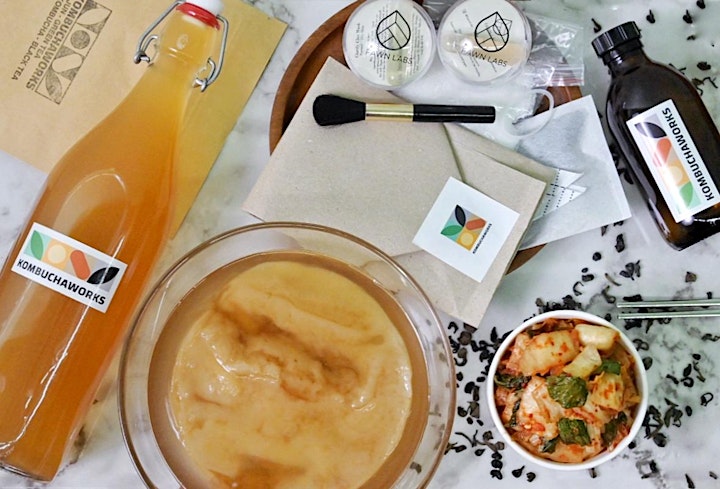 What You Will Bring home:
Kombucha Works Starter DIY Brewing Kit ( 3L Glass Brew Jar, retail value $62.90) including a LIVE SCOBY Culture
Waterproof Kombucha Brewing guide for the first and consecutive brews
Recipe card
Brewing Log card
2 bottles (8oz/250ml) Kombucha Works Flavoured Probiotic Sparkling Fermented Tea
Pin Tea premium tea samples.
1 jar Kimchi
Fawn Labs Face Mask and Brush set (retail value $20)
Kombucha cohort Group to ensure success in brewing Kombucha (We have a 100% success rate in all our cohorts)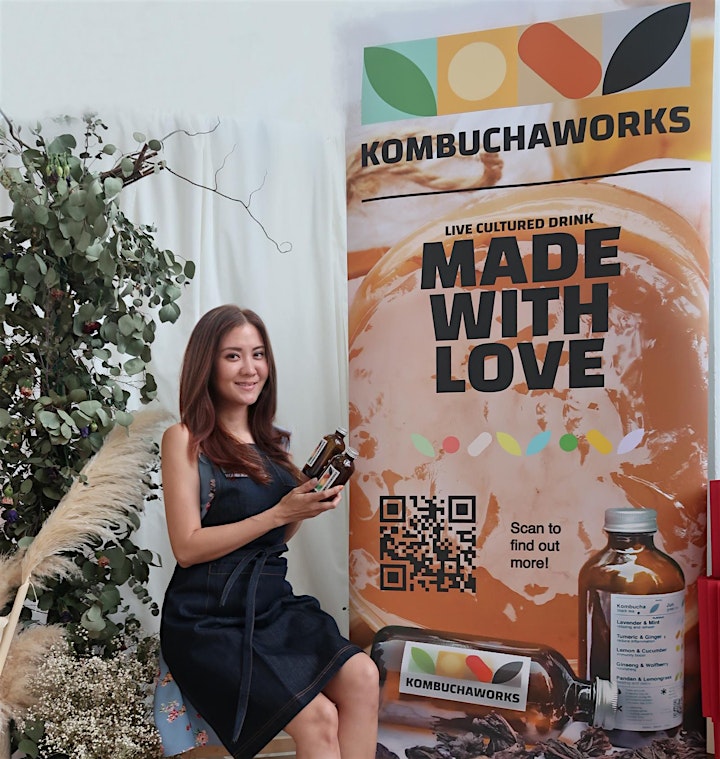 Katherine started brewing Kombucha as a hobby after learning about its health benefits. That hobby quickly transformed into a business after she saw a demand in the market. Katherine hosted a range of 1-to-1 sessions about Kombucha making for a wide range of audience for her company Kombucha Works.
Her Kombucha products are widely distributed on various e-commerce platforms and she is bringing her high-quality Kombucha-brewing workshop by Kombucha Works to the public!
Client Reviews on past Kombucha Brewing Workshops:
⭐⭐⭐⭐⭐
'Bought 6 bottles from Kombucha Works since I attended their Kombucha workshop @ Crane two months ago. Started making my own #booch but nothing beats this local homegrown label. Highly recommend the ginger and turmeric flavor. Healthy and yummy. Will be back for more!' - Tan Ke Xin
⭐⭐⭐⭐⭐
'Good workshop to learn about kombucha. Speaker is very generous to share experiences in kombucha.' - Peanut Butter
⭐⭐⭐⭐⭐
'Learnt a lot from the workshop. Thank you so much for the sharing. Now we are enjoying every brew, especially my mom 😊' - May Yap
⭐⭐⭐⭐⭐
'Great experience with Kombucha works. The trainer is very experence and provide good tips to prepare kombucha.' - Nicole Ong
Date and time
Location
Fawn Labs
71, Tras Street
#2B
Singapore, 079010
Singapore
Refund policy
Contact the organiser to request a refund.
Eventbrite's fee is nonrefundable.