Description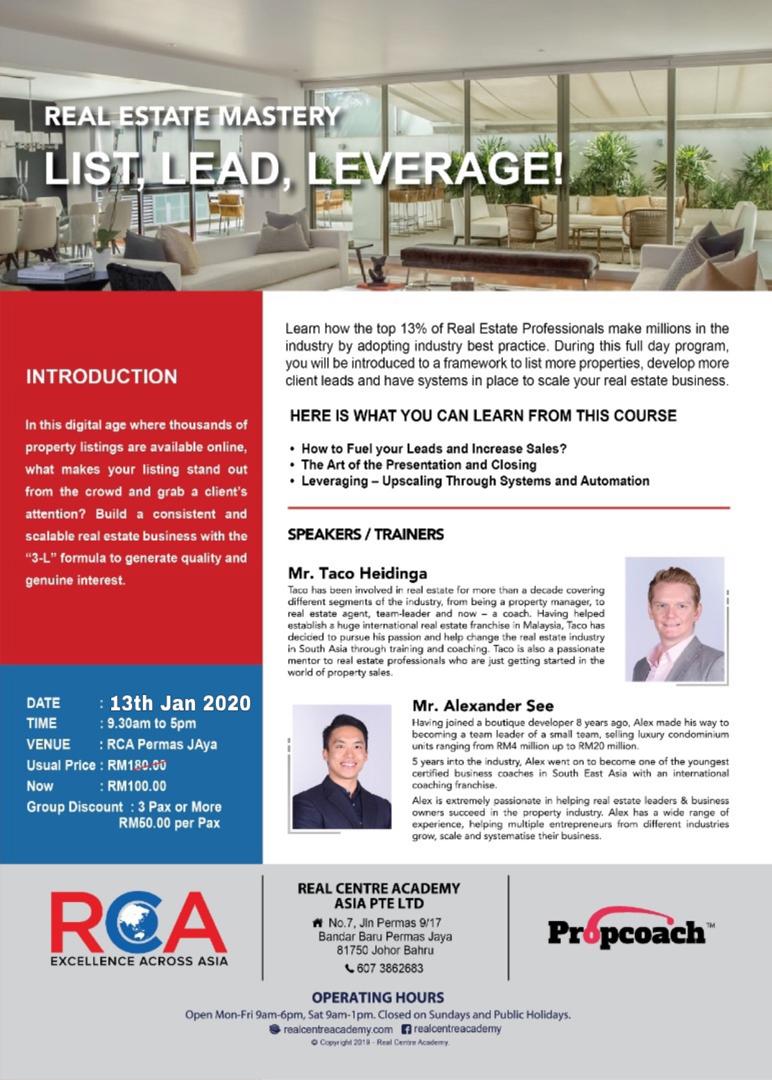 INTRODUCTION
In this digital age where thousands of property listings are available online, what makes your listing stand out from the crowd and grab a client's attention? Build a consistent and scaleable real estate business with the "3-L" formula to generatequality and genuine interest.
WORKSHOP DELIVERY
Learn how the top 13% of Real Estate Professional make millions in the industry by adopting industry best practice. During this fullday program, you will be introduced to a framework to list more properties, develop more clients leads and have systems in place to scale your real estate business.
HERE IS WHAT YOUCAN LEARN FROM THIS COURSE
How to Fuel your Leads and Increase Sales?

The Art of the Presentation and Closing

Leveraging - Upscaling Through Systems and Automation
WORKSHOP FACILITATOR
MR TACO HEIDINGA
Taco has been involved in real estate for more than a decade covering different segments of the industry, from being a property manager, to real estate agent, team leader and now - a coach. Having helped establish a huge international real estate franchise in Malaysia, Taco has decided to pursue his passion and help change the real estate industry in South Asia through training and coaching. Taco is also a passionate mentor to real estate professionals who are just getting started in the world of property sales.
MR ALEXANDER SEE
Having joined a boutique developer 8 years ago, Alex made his way to becoming a team leader of a small team, selling luxury condominium units ranging from RM4 million up to RM20 million.
5 year into the industry, Alex went on to become one of the youngest certified business coaches in South East Asia with an international coaching franchise.
Alex is extremely passionate in helping real estate leaders &business owners succeed in the property industry. Alex has a wide range experience, helping multiple entrepreneurs from different industries grow, scale and systematise their business.