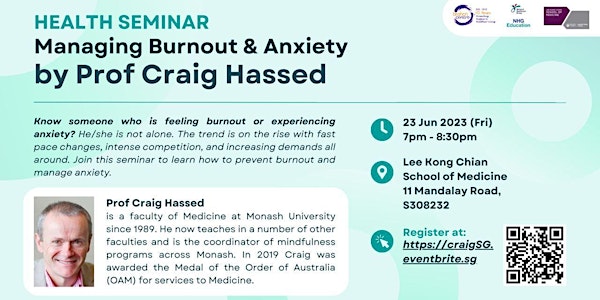 Managing Burnout & Anxiety Seminar by Prof Craig Hassed (In Person)
Join us at this in-person seminar with Prof Craig Hassed from Monash University Medical School to learn about managing burnout & anxiety.
Date and time
Fri, 23 Jun 2023 19:00 - 20:30 +08
Location
Lee Kong Chian School of Medicine HQ Building 11 Mandalay Road ##17-01 Singapore, 308232 Singapore
About this event
1 hour 30 minutes

Mobile eTicket
Know someone who is feeling burnout or experiencing anxiety?
He/she is not alone. The trend is on the rise with fast pace changes, intense competition and increasing demands all round.
Burnout and anxiety are two common mental health issues that can significantly impact a person's well-being and quality of life. Burnout is often described as a state of emotional, physical, and mental exhaustion caused by prolonged periods of stress and overwork. It can be characterized by feelings of depletion, detachment, cynicism, and ineffectiveness.
Anxiety, on the other hand, is a type of mental illness that involves excessive and persistent feelings of worry, fear, and nervousness that can interfere with daily life. Some common symptoms of anxiety include racing thoughts, restlessness, difficulty concentrating, tense muscles, and insomnia.
The key to managing burnout and anxiety is to prioritize self-care, develop healthy coping mechanisms, and reach out for help when you need it. By taking care of your mental health, you can improve your overall well-being and ensure a more fulfilling, balanced life.
Join us in this seminar to learn more about managing and preventing burnout & anxiety from Prof Craig Hassed.
Friday, 23 June, 7pm - 8:30pm
Lee Kong Chian School of Medicine Auditorium, 11 Mandalay Road #17-01, Singapore 308232
Fee: FREE for public healthcare staff and students
$10 for the public
About the organiser
Brahm Centre is a leading course provider of a wide range of science-based mindfulness programs to reduce stress and enhance well-being in today's fast paced world. We have worked with healthcare agencies, schools and corporations to equip employees, parents and students with mindfulness tools to help them stay physically and mentally well. 
Course graduates may enhance their practice by joining our weekly mindfulness clubs. Furthermore there are free regular health talks conducted by healthcare professionals and qualified speakers open to the public.
Launched in 2012 as a charity that aims to promote happier and healthier living, Brahm Centre is a full member of the National Council of Social Services and an Institution of Public Character.
Come begin your mindfulness journey with us. 
Please note that all course registrations are NON-refundable. Transfer of selected mindfulness courses is subject to a $30 transfer fee and a $10 admin fee for a mindfulness make-up class. There are NO transfers or make-up classes available for all other courses.