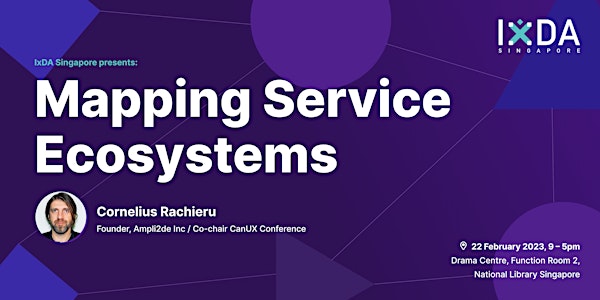 Mapping Service Ecosystems Masterclass with Cornelius Rachieru
Learn the basics of service ecosystem mapping and how this method applies to identifying and solving system-level problems.
When and where
Location
National Library Level 3, Drama Centre Function Room 2 100 Victoria Street #03-01 Singapore, 188064 Singapore
Refund Policy
Refunds up to 7 days before event
Eventbrite's fee is nonrefundable.
About this event
** EARLY BIRD TICKETS EXTENDED TILL 24th JAN 2023, 2359! **
Workshop description
Want to take your stakeholder workshop facilitation skills to the next level?
Learn the basics of service ecosystem mapping and how this method applies to identifying and solving system-level problems.
While the increased popularity of service blueprints and customer journey maps is an encouraging sign for the proliferation of service design into the mainstream experience design toolbox, the fact remains that by themselves, they aren't always ideal methods when dealing with senior business stakeholders in the context of overall business discovery and strategy. The theory behind systems thinking and an approach to visualize a company's service ecosystem at a high level should be part of the toolkit of every design strategist.
By learning the basics of facilitating ecosystem mapping exercises, you'll go a long way towards being able to identify the role and influence a company has in its ecosystem, and pinpoint which key parts of that ecosystem should be given strategic priority (and consequently be journey mapped/blueprinted in detail if those journeys are deemed critical). Understanding an organization's ecosystem is not (just) about visualizing and diagramming it. Being able to identify and apply the right data 'lenses' to craft a visual representation that tells a compelling story can become a key sense-making tool in your strategic arsenal.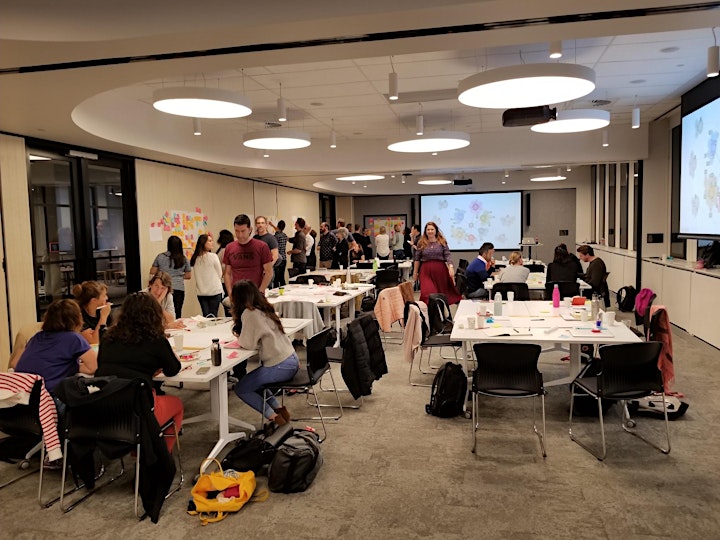 What topics will be covered?
Core concepts of systems thinking and how it differs from our traditional ways of representing and understanding complexity. We'll dive into framing and boundary setting, two important steps in identifying the scope of an ecosystem. We'll also review the most common types of ecosystems and some of the ecosystem mapping methods relevant to experience design.
Throughout the workshop, a combination of presentation, discussion, individual and group hands on work will be used to tackle an ecosystem of your choice. Participants will work in groups (4-6 per table) towards conceptualizing a service ecosystem map by the end of the workshop.
Who is the ideal audience for the workshop?
The material is best suited for intermediate to senior researchers & designers, product managers, and business leadership looking to add new techniques derived from systems thinking to their method toolbox. The workshop assumes some prior exposure to visual design thinking and a basic understanding of classic service design methods, though neither of those is a prerequisite.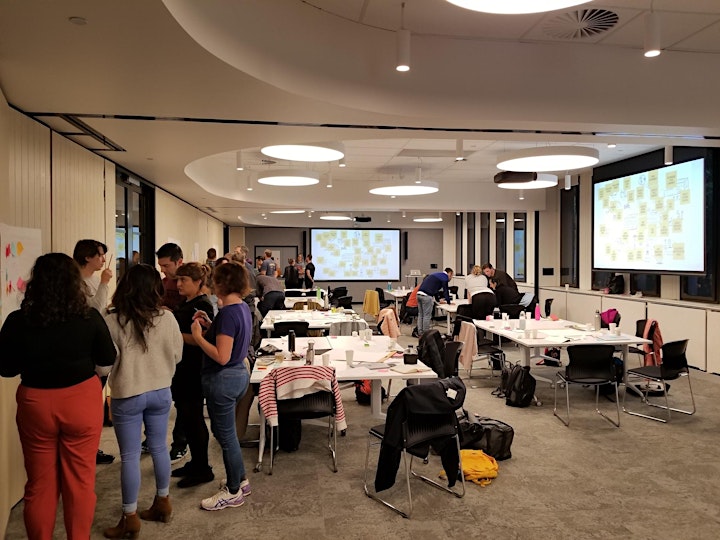 Workshop outline:
The following is a high-level outline of the workshop contents. The instructor reserves the right to modify the order of the topics based on audience needs. These timings exclude a lunch break of approx. 45 minutes and two 15 minutes breaks.
PART I: Theory – 2.5 hrs (includes 3 individual exercises)
• A cautionary tale
• Framing a scale of design
• Systems and systems thinking
• Visual thinking vs Design thinking vs Systems thinking
• What is an ecosystem?
• Visualizing systems
• Ecosystem mapping methods
PART II: Practice – 3.5 hrs (includes a full ecosystem mapping activity for table groups in 5 exercises)
• Mapping service ecosystems
• Conducting system-level research
• Identifying primary and secondary ecosystem actors
• Drawing rich pictures of the ecosystem
• Grouping primary service clusters
• Expanding and diagraming the ecosystem
• Identifying and applying ecosystem lenses
PART III: Conclusions – 0.5 hrs
• How it all ties together
• Further reading
• Wrap-up / Q&A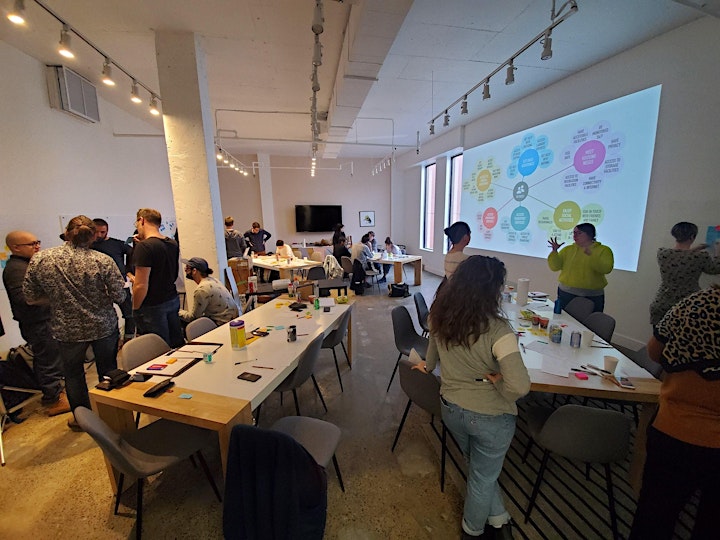 Companies that attended previously
Designers and leaders from the following companies have attended either the full-day, half-day or the in-house version of this workshop.
Amazon
Fjord
GovTech
IBM Design
Netflix
McKinsey & Co
Salesforce
Shopify
PebbleRoad
VMWare Tanzu
and many more...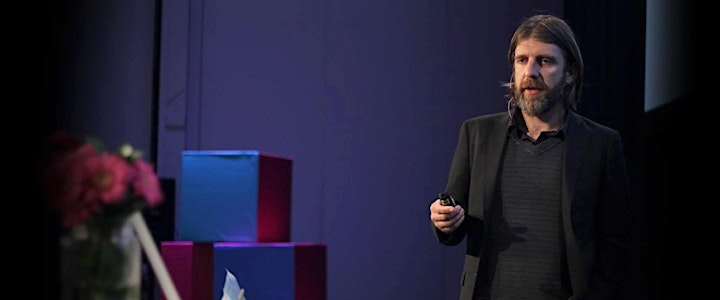 About your instructor
Cornelius Rachieru is the Founder and Managing Director of Canadian strategic UX consultancy Ampli2de Inc., where he explores his fascination with the politics of design while leading service and system-scale enterprise experience design projects. Over the past 20 years, he has managed a number of large UX teams as UX practice leader at Deloitte Canada and Shaw Communications, and has worked in a wide range of industries, from technology to financial services, healthcare, enterprise risk management, autonomous transportation, intellectual property and law.
Cornelius is also the Founder, Co-chair and Creative Director of the popular CanUX conference, Canada's largest and longest running annual UX event. A self-proclaimed night owl (he is originally from Transylvania), he loves the eerie atmosphere of red eye flights and is a nomad at heart.
About IxDA Singapore
The Interaction Design Association (IxDA) is one of the long-standing community groups around the world. Since 2011, we have been serving the Singapore design community with meetups, designer mentoring and other initiatives to advance our discipline of Interaction design.
Important notes for attendees:
This workshop will be conducted in-person. Prevailing COVID-19 regulations for events applies and may change at a very last notice. In the event of changing regulations, IxDA Singapore will do its very best to inform every attendee and process refunds if necessary.
While ART testing is not required to attend the event, mask wearing is encouraged and optional. If you are not feeling well before or during the event, please do not attend and request for a refund by emailing us at singapore@ixda.org.
Lunch will not be provided (There are wayyy too many nice food options nearby). However, light refreshments will be provided during breaks.
PDPA notice:
By attending this workshop, you consent that photos and/or videos may be taken during the session, by the organiser or other attendees, and may be used in future for marketing related purposes. Please inform us if you do not consent.
By purchasing a ticket, you also consent and allow representatives of IxDA Singapore to contact you, for the purpose of communicating information relating to this workshop and/or future events.