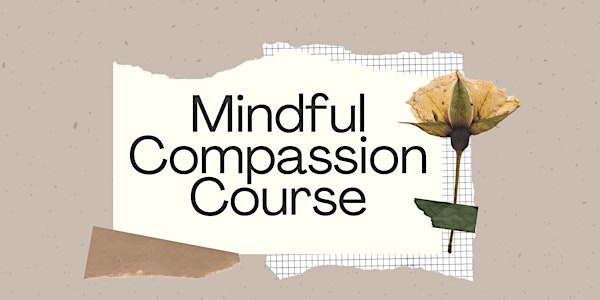 Mindful Compassion Course by Angie Chew - NT20221215MCC
Compassion enables us to be kind and caring to ourself and others. When we grow our compassion, we heal ourself & our relationships.
When and where
Location
Brahm Centre @ Newton 47 Scotts Road Goldbell Towers #04-02A Singapore, 228233 Singapore
About this event
WHAT?
Why Compassion?
When we lack compassion for oneself or others, we can be easily provoked, experience feelings of anger, anxiety and resentment.
Applying compassion opens our heart and mind to see the world with gratitude, abundance and joyfulness. We can transform our blaming and critical mind to an appreciative and forgiving mind.
Compassion helps to heal the pain from past unpleasant experiences and builds our mental resilience to face the future with more equanimity and optimism. This reduces anxiety, panic attacks, insomnia and other depressive symptoms.
Applying compassion not just to oneself but others as well (holistic compassion) will enable us to be more equanimous and effective in forming and maintaining good relationships with ourself and others.
Outcomes
Less anger and resentment
More forgiving, less critical and blaming towards oneself and others
A more relaxed and optimistic mind
Reduced anxiety and depressive symptoms
Better quality sleep
Lessons
Lesson 1: Mindfulness & Compassion
Lesson 2: Compassionate Care for the Body and Mind
Lesson 3: Turning Towards Our Difficult Emotions
Lesson 4: Developing Mindful Relationships
Lesson 5: Communicating With Compassion
Lesson 6: Forgiveness and Letting Go
Lesson 7: Making Better Choices
Lesson 8: Embodying Mindfulness Attitudes
Approach: There will be presentations, discourses, mindfulness practices, journaling and group discussions. Attending every class is strongly encouraged as each class builds on the previous.
Schedule: 8 weekly sessions plus a half day retreat (All sessions and retreat must be attended to receive a completion certificate)
WHEN?
Thursday, 15th December - 7pm-9.30pm
Thursday, 22nd December - 7pm-9.30pm
Thursday, 29th December - 7pm-9.30pm
Thursday, 5th January - 7pm-9.30pm
Thursday, 12th January - 7pm-9.30pm
Thursday, 19th January - 7pm-9.30pm
Thursday, 2nd February - 7pm-9.30pm
Thursday, 9th February - 7pm-9.30pm
Half-day retreat: 
Saturday, 28 January - 9.30am-3.30pm
Total of 8 weekly Sessions and 1-day retreat.
WHERE?
Brahm Centre @ Newton, 47 Scotts Road #04-02A, Goldbell Tower, Singapore 228233
____________________________________________________________________________
Course fee: $550 | $110 for seniors eligible for National Silver Academy (NSA) subsidy*
*NSA subsidy is for Singaporeans and Permanent Residents aged 50 and above.
Notes:
Please note that payments for courses are non-refundable.
Do ensure that you are able to attend the first session of the course before registering for the course as you will not be allowed to continue with the course should you miss the first session.
Request for transfers or make up-classes for selected mindfulness courses are subjected to availability and fees of $30 for transfers and $10 for make-up are applicable.
Trainer Bio:
Adj. A/Prof Angie Chew is the Founder and CEO of Brahm Centre, a charity with over 50 staff, dedicated to promoting healthier and happier living. In recognition of her contributions in the mental health space, she was named "The Straits Times Singaporean of the Year 2019".
She is the first certified Mindfulness Based Stress Reduction teacher in Singapore conferred by the Mindfulness Center at Brown University School of Public Health, in collaboration with UMASS Memorial Health Care's Center for Mindfulness. Angie is also a certified Dot-b and Paws-b Mindfulness teacher from the Mindfulness in Schools Project (UK). In addition, she is a Mindfulness Based Cognitive Therapy Course teacher trained by Oxford University Mindfulness Centre.
Angie is also an Adjunct Associate Professor of Mindfulness at the National University of Singapore. She has conducted mindfulness courses, workshops and retreats to more than 10,000 people across all ages.
Her corporate clients extend across various industry sectors - from healthcare (Ministry of Health, National Health Group, SingHealth, Institute of Mental Health, Agency for Integrated Care, Tan Tock Seng Hospital, Community Psychology Hub), education institutions (Ministry of Education, Lee Kuan Yew School of Public Policy, Hwa Chong Institution, Raffles Institution, NUS High School, Dunman Secondary, Nanyang Girls' High School, St Anthony's Canossian Secondary) to finance (DBS, OCBC, BOS and Goldman Sachs), just to name a few.
Prior to her founding of the Brahm Centre in 2012, she served in senior positions at Singapore Airlines, Visa International, Accenture, Hewlett Packard and government agencies.