Multiple Dates
Mindfulness Class with Aerial and Yoga For Teenagers and Tweens age 10-15
Mindfulness Class with Aerial and Yoga For Teenagers and Tweens age 10-15
About this event
Class Structure
45 mins Mindfulness & Yoga
45 mins Aerial Yoga
Term 2
12-weeks-class term: $600
Trial $55 per class
Aerial Yoga
An Inversion is a great tool for self-regulation to the central nervous system
Fun and therapeutic environment to flip, rock and swing to improve body and spatial awareness
Upside down with the help of gravity aligns and decompress the spine, promotes blood circulation and a calming sensory to the brain
Movements in different orientations and directions help develop a strong sense of balance; train the brain's focus, motor planning and working memory
Up in the air enhanced self-confidence, responsibility and require good observation and listening skills to move in and out of different poses
Mindfulness & Yoga
Breathwork and mindful walking in the garden with the birds, lizards and butterflies improves children's ability to self-regulate, stay calm and centered.
Yoga stories customised by Yvonne brings children to a whole new world of imagination that enhance creativity and possibilities. Advocating the value of being open and willing to learn.
Mindful movements help to improve children's ability to stay focused, and build a growth mindset of "I can do it".
Yoga with positive affirmations develops the child's confidence and resilience especially when it comes to balancing - the value of stability before mobility in real life.
This ticket is not applicable for cancellation or refund. Only one make up class for the 8-weeks-class term.
By signing up for this programme, you agree to be contacted for future events via WhatsApp.
Mindful Space
97837313
https://www.mindfulspace.com.sg/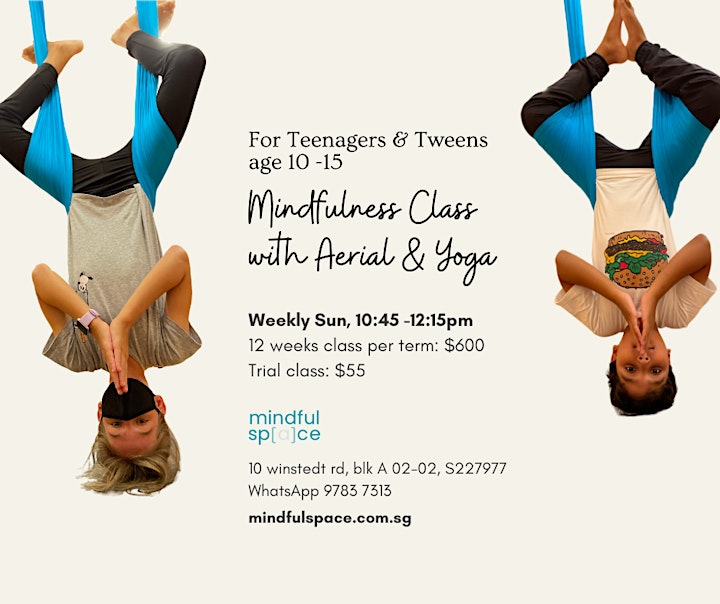 Organiser of Mindfulness Class with Aerial and Yoga For Teenagers and Tweens age 10-15
Holistic and inclusive space to empower parent & child with life skills - develop & balance the mind (IQ), body (PQ), emotions and behaviour(EQ).
We believe in order to support the child, we must first support the parent.
1. Parent's Well Being
2. Parenting Knowledge & Skills
3. Parent's bonding & learning with their child
OUR SERVICES:
Parent & Child Classes
Kids Enrichment
Yoga & Fitness
Life Coach
Business Coach
Family Consultation 
Parenting Workshops 
Teacher Trainings
Corporate Events
Holiday Programmes