Mindfulness Teacher Training Program (IMTA Accredited) - September 2021
This is a GLOBALLY ACCREDITED Mindfulness Teacher Certification Course conducted by the Centre for Mindfulness (Singapore).
About this event
Centre for Mindfulness 
Centre for Mindfulness (CFM) is a member of the CPD Standards Office and an accredited CPD provider. This certification programme is accredited by International Mindfulness Teachers Association (IMTA). Graduates of this course will be eligible to receive a personal credential as a Certified Mindfulness Teacher - Professional Level (CMT-P). This credential will serve graduates for employment purposes and is the standard in the field.
SIGN UP by 14 Februrary 2021 to enjoy the Early Bird Price. 
This year-long program provides training, coaching, and supervision to those wishing
to incorporate mindfulness into their profession and to teach mindfulness with individuals, groups, communities, or organisations; and
to design and teach a 8 week evidence-based mindfulness course. 
Successful completion of this program provides a document of completion as a Certified Mindfulness Teacher and Facilitator. 
Why People Choose To Attend Our Mindfulness Teacher Training?
accredited programme by the International Mindfulness Teachers Association (IMTA)
learn to teach research, evidence-based and secular Mindfulness 
an intensive and comprehensive 257 hour programme
the programme is designed based on the mindfulness teacher competencies of the Universities of Bangor, Exeter and Oxford.
develop facilitation skills unique to Mindfulness for leading groups and individual coaching 
learn to integrate mindfulness into other professional disciplines
 Learning Outcomes
You will be able to: 
Lead mindfulness classes for diverse populations, which you are familiar with or desire to share, such as corporate/business settings or educational settings.
Lead mindfulness coaching classes for individuals
Lecture or deliver a talk for the public, a professional community or people in your field
Demonstrate competence in teaching, designing and facilitating mindfulness-based courses and workshops
Articulate the professional and ethical standards of adherence for a mindfulness teacher 
Articulate and demonstrate relevant teaching skills including clear instructions, creating positive group learning environment, creating safety, managing challenges and difficulties of self and participants and being flexible in curriculum delivery. 
Demonstrate good relational skills when teaching and with fellow teachers. 
Demonstrate the ability to develop customised curriculum by target audiences, organising and evaluating teaching materials for individual and group settings. 
Demonstrate competence in understanding the theoretical knowledge of Mindfulness, experiential learning, relevant qualities and attitudes of a teacher
Demonstrate responsive and flexible pacing to cover an appropriate curriculum, as well as holding a group learning environment and managing challenges and difficulties.
Duration of program: 1 Year
Course Fee
The early bird price is S$7,800 and the standard price is S$8,800. Course fee includes all textbooks and reading materials. It excludes cost for practicum. 
Steps to Apply:
Submit the non-refundable application fee of $50 via our Eventbrite page and submit the following documents via email to admin@centreformindfulness.sg 
Application fee payment receipt 
Updated resume
Certificate of Completion or a verification letter as an evidence of completion of an 8 week mindfulness class
a 100 to 200 word personal statement about your intentions to join this programme
For more infomation about the programme, please click on this link.
Class Schedule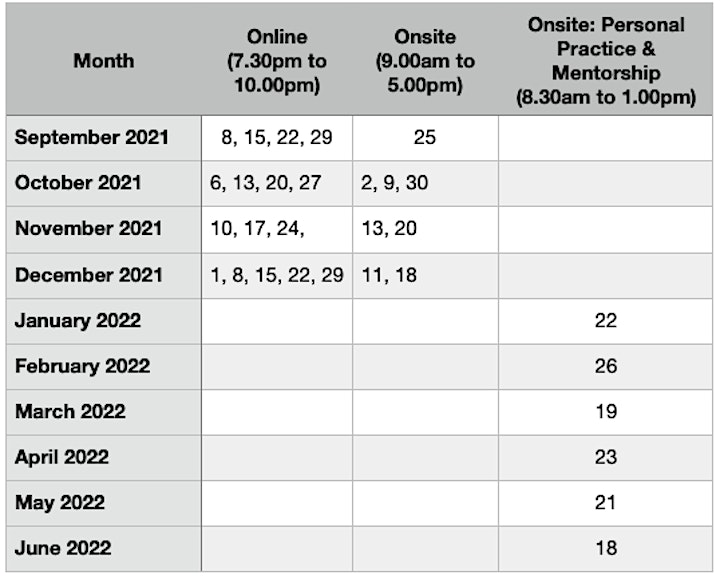 Organiser of Mindfulness Teacher Training Program (IMTA Accredited) - September 2021
We teach Mindfulness as a secular and evidence based practice to Organisations, Schools and Individuals through professional training and education.
We empower individuals to BE and enhance their wellbeing, quality of life and performance.
 Singapore's Centre for Mindfulness is a one stop centre for Mindfulness Training, Education and Practice. We established ourselves in Singapore in 2015 and we are a member of The CPD Standards Office (United Kingdom) who award independent CPD accreditation to training and learning activities across all professions and sectors.