Retreat from busy-ness, bask in calmness again on a guided nature & forest bathing experience through a vast wooded meadow in Singapore.
About this event
"The art of forest bathing is the art of connecting with nature through our senses. All we have to do is accept the invitation. Mother Nature does the rest." - Dr. Qing Li
Nature and forest bathing is a gentle guided sensory exploration that is suitable for everyone. On this guided 2 to 2.5-hour immersive journey, we will open our senses - literally and metaphorically, and discover the pleasures and delights that nature offers us. Curated and accompanied by a certified forest therapy guide, the experience will provide structure as well as openness to allow each participant's sensorial re-discovery to self, others and nature to unfold. Finally, we will gather and conclude our experience with a tea sharing. Having taken a pause from our world of busy, and reconnected with the world of nature, the latency, the coming inward, the observation, the listening, the nourishing, the playful exploration ... we now attend the world with our rested minds and bodies, and rejuvenated spirits.
This journey will bring us through the expansiveness and gently undulating curves of a quiet wooded meadow. A sense of space, open-heartedness and freedom. If you prefer a forest experience, please register for Nature & Forest Bathing in the City [Forest].
* This is not a hike or naturalist walk. You do not need prior hiking experience or extreme fitness to join us, but you do need to be comfortable to stroll/walk - sometimes on terrains that may include dirt trails, sand, grass and stairs. Experiences are not strenuous.
How you will benefit
Rest and enjoy physiological health benefits of forest bathing backed by Science research.
Re-enchant with nature in a gentle accessible way.
Slow down, leave the chaos and de-stress.
What to expect
The experience takes on a slow immersive pace. It is not physical and not strenuous.
A certified forest therapy guide will facilitate the experience. Nature and forest bathing invitations are suggested but are never compulsory.
Inclusive of materials (where required), light snacks and tea.
Please bring your own tea cup.
Due to the more contemplative, slow and quiet nature of the experience, it is recommended for anyone aged 16 and above.
Forest bathing is a Science-backed practice that has been shown to benefit our health. You can find out more about forest bathing here.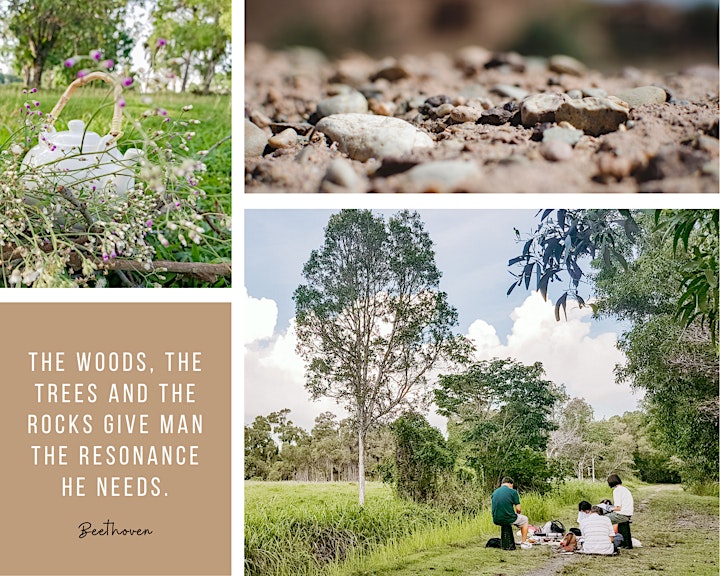 Payments and registration
We also accept payment via Paynow and/or bank transfer. If you prefer to pay via Paynow and/or bank transfer, please write to hello@xiunatureconnections.com or DM us on our Facebook or Instagram to complete your registration and reserve your spot.
Are you a ClassPass member? You can use your ClassPass credits for some of these sessions. Please click here to check and register with ClassPass.
We have a complementary Honour System payment support model where seats have been reserved to support those who may be facing more challenging situations. Pay what you can, no further questions asked - by honour and trust.
Private groups and bookings
If you prefer to arrange for a private session exclusive to you and your invited friends, please write to hello@xiunatureconnections.com .
Reviews
"I appreciated how forest bathing gave me my much-needed solo quiet time and also community time. A balance." - Wong S.F.
"I was delighted by how gradual the experience was. I was impacted before I knew it." - Anonymous
"I loved how the session helped me feel safe and secure, with a sense of curiosity and awe of the space around me." - Pui C.F.
"I will recommend forest bathing for anyone who is looking to decompress from a hectic or stressful lifestyle. The session helped me to appreciate our natural surroundings and witness the significant impact it contributes to our physical well-being. The experience immediately refreshed my mood and made me feel better emotionally at the end of the session." - Katherine B.
COVID-19 restrictions and safety measures
Guests are required to:
Bring their own tea cup and sitting mat.
Wear their masks at all times.
Check in and check out using Trace Together at the park/garden (where available).
Keep to their allocated sub-group (if applicable).
Maintain safe distance from others at all times.
Maintain personal hygiene at all times.
About your facilitator
Youmin is a certified nature and forest therapy guide and trainer, also a yoga nidra facilitator. A pioneer and leader in Singapore and the Southeast Asia, she is passionate about sharing nature connections and deep restorative rest for well-being, especially for stressed out and disconnected city dwellers. In this frantic world we live in, she believes that we need to go into the 'rest space' to find ourselves, we need to slow down in a practical manner, and then, we can thrive sustainably. Working with individuals, groups and organisations, Youmin's intention is to support them to rise up as well-rested leaders. She has also guided and taught at overseas workshops, retreats and seminars including Finland, Bangkok, Chiang Rai and the Philippines. Her work has also been shared at international and local conferences, as well as publications. She also trains and mentors trainee guides, and is the founder of Xiu Nature Connections.
Please read our Terms and Conditions.
We reserve the rights to cancel and/or postpone the session if the minimum number of participants is not met and/or unfavourable weather changes and/or unfavourable pandemic circumstances. You will be able to register for another session without any further fees.
Important class details such as the exact meeting point etc. will be sent to you via a confirmation email from Eventbrite. Please read and retain that email.
Photographs and/or videos may be taken at the sessions, and may be used for social media and publicity.
Questions? Please contact hello@xiunatureconnections.com .
Organiser of Nature and Forest Bathing in the City 【Meadow】
休 means 'to rest'. Rest, is the basic ingredient in all approaches to wellness. To deeply rest and restore is a skill lost and forgotten as we traverse and hustle through our modern busy lives. To rest is to allow yourself to be in the space of no-thing-ness.
Through our programmes such as forest therapy (forest bathing or shinrin yoku) and yoga nidra, we invite you to rest. We invite you to re-connect. We invite you to rise.
From our regular forest bathing walks to yoga nidra workshops to customised rest programs, we are committed to promoting 'a good life' across all ages and communities in Singapore.
Private or customised nature connection programmes are available and are suitable for wellness, coaching as well as corporate retreats.
Join us to rest for our mental, emotional and physical wellbeing. Join us in #ThrivingFromRest !
Connect at hello@xiunatureconnections.com !