Description
Novena: Effects and Consequences of Poor Sleep and Sleep Loss - Aug 4 (Sat)
Do you suffer from sleep loss? Have bouts of insomnia? Having poor quality sleep is a common complaint in Singapore and many other countries in the developed world. In the long run, chronic short sleep can have serious health consequences. Fortunately, a good night's sleep is available to most of us with some changes to our habits and attitudes. In this talk, Dr Julian Lim will discuss some of the things that might keep us awake at night, and how we can manage our thoughts and behaviours in order to get a restful night in bed.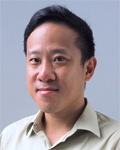 Speaker: Dr Julian Lim, Asisstant Professor, Duke-NUS Medical School
Dr. Julian Lim is an Assistant Professor in the Neurosciences and Behavioural Disorders department at the Duke-NUS Medical School, and the Principal Investigator of the Neuroergonomics and Cognition Laboratory. He graduated from Duke University with a B.S. in Psychology (Neuroscience) in 2004, and from the University of Pennsylvania in 2010 with a PhD in Psychology. His doctoral research focused primarily on sleep deprivation, in particular using fMRI to understand its neurocognitive effects. Among other areas, his current research focuses on the effects of mindfulness-based interventions on cognition, sleep, and health.