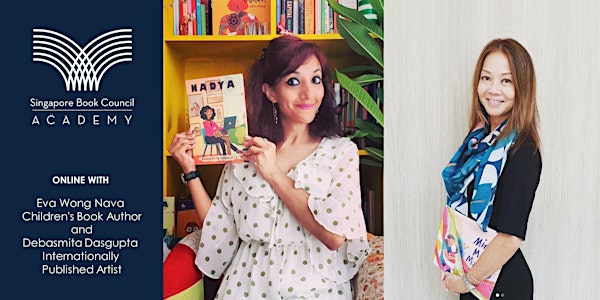 Picture Book Matters with Eva Wong Nava and Debasmita Dasgupta
Mentoring aspiring and emerging picture book writers and illustrators in Singapore.
When and where
Location
Zoom Real-time Internet Singapore, Online Singapore
Refund Policy
Contact the organiser to request a refund.
About this event
Through a series of three online workshops, participants will learn step-by-step how picture books of all genres, including graphic novels as well as silent picture books, are created for the traditional publishing market.
With each workshop, participants will get one step closer to the publishing of their picture book ideas. Picture Book Matters mentors, author Eva Wong Nava and artist, Debasmita Dasgupta, will prepare participants to ideate, refine and present pitch-ready materials.
The mentors will share industry tips and knowledge, from both the writer's and illustrator's perspectives, through interactive exercises and real-time conversations, making each picture book creator's story unique and submission ready.
Participants will learn ways on how to generate and refine an idea, write a strong synopsis that will help build their story arc, know their characters better, do visual research, character sketching, storyboarding, inking and final colouring.
In conjunction with Picture Book Matters (PBM), the Singapore Book Council is offering this series of workshops leading up to the Asian Festival of Children's Content (AFCC) in May 2021 and all workshop participants will enjoy a discount off AFCC festival pass and a chance to pitch their manuscript at AFCC.
All sessions will be conducted via Zoom and participants will be able to communicate directly with the mentors (through video camera and direct messaging) during the class. The class size will be small and participants are requested to be visible to the facilitator and fellow participants through their web cameras.
This course is eligible for SkillsFuture Credit.
For workshop enquiries, please email programmes@bookcouncil.sg
Kinokuniya members can enjoy 10% off the workshop fee. Please contact programmes@bookcouncil.sg for the discount code before online registration.
Facilitator:
Eva Wong Nava is an award-winning children's book author who lives between two worlds. She reads copiously and writes voraciously. Eva holds degrees in English Literature and Art History. She has taught children and adults how they can use writing for communication and play. Eva is currently reading a Masters in Children's Literature towards a PhD focusing on memory in childhood reading. She has been a speaker at the Asian Festival of Children's Content on writing about diversity and representing marginalised voices. Eva has forthcoming picture books with Penguin Random House SEA. She lives in London with her family, two scampering squirrels, and a regal fox.
Debasmita Dasgupta is an award-winning Singapore-based, internationally published, Kirkus Best Prize nominated illustrator & graphic novelist. With over a decade-long career in the field of publishing, she has illustrated over 20 picture books, comics & poems working with publishers in the United States, the United Kingdom, India and Singapore including HarperCollins London, Scholastic India and Mango & Marigold Press USA. Widely known as an art-for-change advocate, she tells stories of changemakers from around the world partnering with global non-profits.
Cancellation:
The workshop can be cancelled or postponed two weeks before the workshop date if the minimum number of participants is not met. Participants will be fully refunded for workshops cancelled by us.
Participants who are unable to attend a workshop they have registered for are to inform us of the reason two weeks before the workshop date. They will be fully refunded in the event of extenuating and mitigating circumstances (E.g. illness, bereavement, accidents) . Those who inform us up to 5 working days before the workshop date will receive a 50% refund. Those who did not turn up at the workshop will not receive a refund.
Upon registration, you are deemed to have read and understood the cancellation and withdrawal policy and accept the terms contained therein.
Please note there is no lift to the venue.
Workshop Schedule:
10 April 2021, Saturday, 9.30am to 12.30pm
11 April 2021, Sunday, 9.30am to 12.30pm
18 April 2021, Sunday, 9.30am to 12.30pm
10 April, Saturday – Basics of Creating a Picture Book (9.30am-12.30pm)
Starting from an overview on the different kinds of picture books for children, participants will gain an understanding on the writing and illustrating processes of creating a picture book from start to finish. Mentors will walk through the basics of finding an idea, developing a story structure, plot, treatment along with visual research, character sketching, storyboarding and final illustrated stories.
11 April, Sunday – Beyond the Basics (9.30am-12.30pm)
In this session, participants will be divided into groups and guided through interactive group exercises to develop their own stories. Each participant will also have an opportunity for one-to-one session with each mentor to receive critique on their picture book stories from both the writer's and illustrator's perspectives.
18 April, Sunday – All About Pitching (9.30am-12.30pm)
Based on the learnings from the previous two sessions, participants will get a week to prepare their pitches. During this session, each one of them will do a mock presentation / pitching and receive feedback from mentors. Besides sharing feedback on each presentation, mentors will also provide the class with some essential tools and tips for professional pitching.
Bonus Session (20 minutes)
Get a 10-minute, one-to-one critique session with Eva Wong Nava and Debasmita Dasgupta. The schedule will be arranged after session one.