Pregnancy Loss Retreat with Mindfulness & Reiki
About this event
Retreat into deeper healing with energy healer Hwee to release our stuck energy (trauma in the body) and use sound therapy to vibrate different frequencies that resonate with our body.
Heal and move forward together with Vernessa Chuah and Hwee Koh.
🤍 Mindfulness practice⠀⠀⠀⠀⠀⠀⠀⠀⠀
🤍 Energy and Sound Healing⠀⠀⠀⠀⠀⠀⠀⠀⠀
🤍 Art Therapy⠀⠀⠀⠀⠀⠀⠀⠀⠀
🤍 Journaling⠀⠀⠀⠀⠀⠀⠀⠀⠀
🤍 Reflection & Sharing⠀⠀⠀⠀⠀⠀⠀⠀⠀
After the session, you have the option to:⠀⠀⠀⠀⠀⠀⠀⠀⠀
🤍 connect with others: socialise with others over herbal tea⠀⠀⠀⠀⠀⠀⠀⠀⠀
🤍 connect within yourself: quiet time in a cosy room with candles and healing music⠀⠀⠀⠀⠀⠀⠀⠀⠀
What is Reiki?
Reiki healing helps us relax into the calmer zone deeper; allowing us to feel our emotions & process our thoughts. The gentle energy improves the flow of energy in the body, removes any blockages, and aims to support our healing journey and learning to let go.
Our brain waves enter the relaxed mode of theta frequency (calming state of mind); activate the parasympathetic nervous system (relaxes the physical body). The state between wakefulness and sleep relate to the subconscious mind, where you become aware of your inner thoughts & emotions.
This is an invitation for you to be present for yourself and honour your angel child. To acknowledge your own thoughts and emotions, to tell your story and be heard, and to release the emotions out from your body.
About Vernessa Chuah
Vernessa, the first pregnancy loss coach in SouthEast Asia. She transforms her vulnerability from her three pregnancy losses to supporting other grieving parents whose children are gone too soon. She is featured as a changemaker by Monash University Australia (2021) and appear on Channel News Asia (2021) for her vision to bring a voice to this not-talk-much-about topic.
About Hwee Hwee Koh
Hwee is a yoga instructor, Reiki healer & mindfulness advocate. She had a fair share of mental wellbeing challenges when she faced depression in 2016 & 2020. While going through self-healing & professional therapy, she finds that being aware of our emotions and feeling our feelings helps the healing progress tremendously. She likes to combine Reiki Healing with mindful rest as we stay in our body and feel our body.
Together we hold space for healing.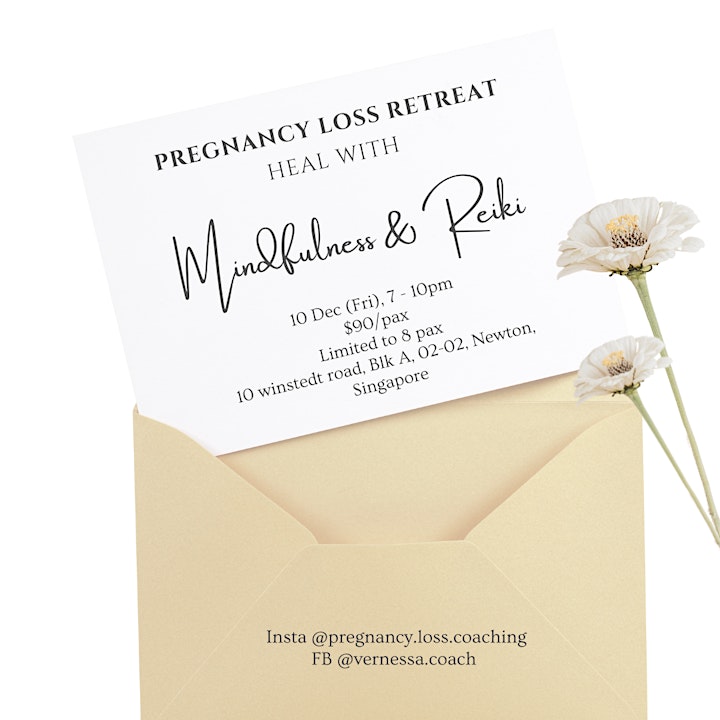 Organiser of Pregnancy Loss Retreat with Mindfulness & Reiki
Holistic and inclusive space to empower parent & child with life skills - develop & balance the mind (IQ), body (PQ), emotions and behaviour(EQ).
We believe in order to support the child, we must first support the parent.
1. Parent's Well Being
2. Parenting Knowledge & Skills
3. Parent's bonding & learning with their child
OUR SERVICES:
Parent & Child Classes
Kids Enrichment
Yoga & Fitness
Life Coach
Business Coach
Family Consultation 
Parenting Workshops 
Teacher Trainings
Corporate Events
Holiday Programmes