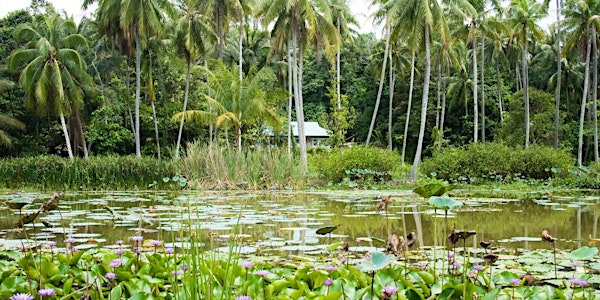 Description
NOSHtrekker invites you to explore a traditional Malay home in Singapore's last 'village' Pulau Ubin

Known for their knowledge of traditional medicine and jungle botanicals, the Abdullah sisters unveil the secrets hidden in Pulau Ubin's tropical foliage. You'll wander through their jungle garden as they point out the herbs and leaves used in their distinct Singapore-Malay cooking, and learn how generations have used the properties of flowers, leaves and spices to cure ailments, promote good health and enhance the magical flavours of their food.
ABOUT PULAU UBIN
Water wells, buzzing electricity generators and rugged terrain are not things most people experience on a visit to Singapore, but on Pulau Ubin, an island tucked away on the north-east corner of the mainland, you can travel back in time and experience life in one of the last remaining village houses in the country.
Participants must make their own way to Pulau Ubin and arrive by 11:00am. Information on how to get to Pulau Ubin can be obtained here.
YOUR NOSHTREKKER HOSTS
Kemariah & Samsariah Abdullah
The Abdullah family home is a traditional wooden village house dating back more than 100-years, and is surrounded by lush green jungle which inspires their kitchen garden. The house is preserved by the sisters, Kemariah and Samsariah as a retreat from the city, and a place to introduce visitors to a way of rustic life enjoyed by their family through four generations. Memorabilia that recalls a different way of fishing and cooking is peppered around the property, and if you look under the house, the lime-green fishing boat of the sisters' great-grandfather still remains.
More information about this NOSHtrekker pop-up can be found at here.