Embark into the world of LEGO Robotics with our Robo-Builder camps. No Prerequisites required
About this event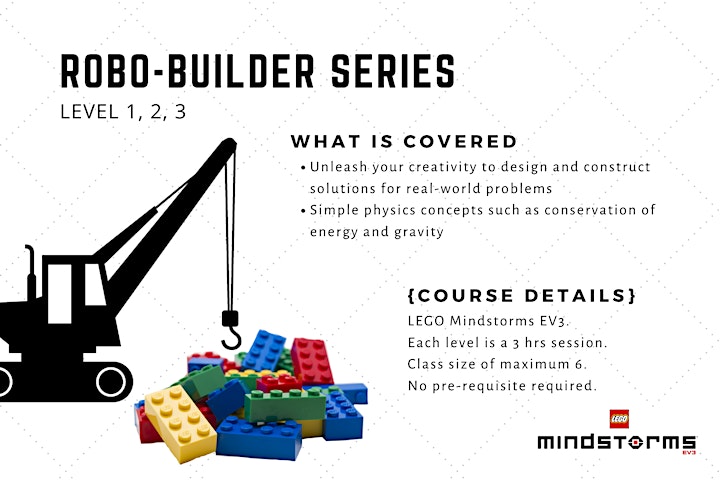 Part 1: Structures & Building Concepts
Level 1 is an introductory course using Lego Mindstorms EV3.
First of all, participants will be able to identify the common parts in a LEGO Mindstorms set. Next, they will learn about the concepts of links and joints, which will then guide them towards building 2D and 3D structures.
Our construction activities are designed to guide our young learners to learn about these concepts on building and stability while relating them to real world applications.
– Introduction to LEGO Mindstorms EV3
– Forming firm 2D and 3D structures
– Build a basic robot
– Inputs and outputs of the robot
Throughout the course of our Robo-Builder series, Design Thinking concepts will also be taught to our participants. Particularly in Level 1, we will be focusing on defining the problem statement.
Part 2: "Colour" me!
– Introduction to Sensors (touch and colour sensors)
– Understanding and drawing flow charts
– Develop logical thinking through activities and tasks
– Work on teamwork and communication skills through group discussions
– Controls of the robot
Do you think Robots are able to recognize colours? Or are they colour-blind?
Let's discover how we can help our Robots open their "eyes" and be able to even recognize colours and move according to colours shown to their "eyes"
This is an exciting journey for absolute beginners to embark onto to have Versatility, think out of the box and build resilience
We strongly believe that kids learn best through play, kids will develop competent problem solving through fun and play
They will also be deepening their logical thinking through different hands-on construction activities
More details can be found on https://codejam.sg/rocbotics/robobuilder/
Feel free to reach out to us to enquire more!