Description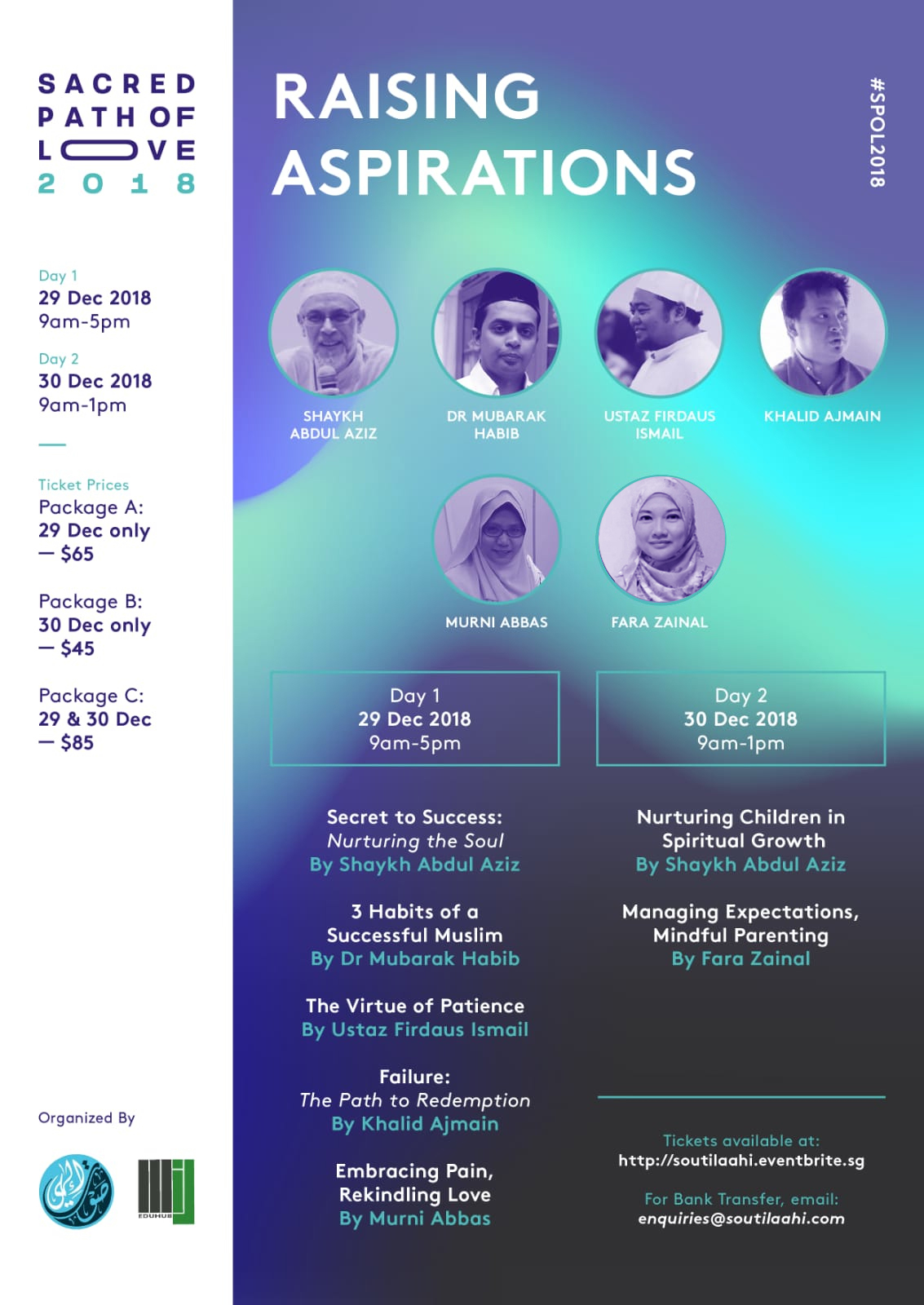 SATURDAY 29 DEC 2018 (9AM - 5PM)
SUNDAY 30 DEC 2018 (9AM - 1PM)

Day 1: 29th Dec 2018, 9am – 5pm
TOPICS:
Shaykh Abdul Aziz – Secret to Success: Nurturing the Soul

When life begins to feel like nothing more than a succession of actions executed by well-oiled limbs and the frustration borne of the slow realization of sheer meaninglessness starts to eat away at us, we find ourselves slipping helplessly down the slippery slope of misery, without ever knowing the origin of this horrid emptiness within.
Allah tells us: "And I did not create the jinn and mankind except to worship Me." [Quran 51:56] It is through the Light of worship and service to Allah, and through it alone, that the path towards Purpose is illuminated for every one of us, and the unspoken hollowness in our chests may slowly begin to be filled.
So how does one begin to rediscover oneself and one's particular purpose, and how is one to use the compass of this purpose to find the infinite seas of Divine Wisdom, and how is one to navigate freely through the seas of life—through waters choppy and calm—without losing one's anchor? Join us in this upcoming SPOL 2018 talk by Shaykh Abdul Aziz to find out.

Murni Abbas – Embracing Pain, Rekindling Love
Perhaps the seeming injustice of agony in the wake of broken relationships is itself a manifestation of the Divine remedy.
To resist this pain is only to postpone its inevitable onset and give it license to fester in much more toxic ways. To embrace this pain is to embrace the reality that suffering is simply the God-given nature of this temporary, imperfect world. In embracing pain, we embrace the Everlasting Love of Allah, and in so doing, rebuild our relationships and lives.
But to go from the abject, consuming despair of a trail of broken relationships to the wholesome, grateful contentment in healthy relationships is not easy.
How does one break free from the cycle of embittered relationships of the past in order to start anew? How does one rise from the rubble of broken relationships to once more find the strength to lay the foundations for newer, more meaningful relationships? Join us for this upcoming SPOL 2018 talk with renowned local counselor Murni Abas to find out.

Dr Mubarak Habib – 3 Habits of a Successful Muslim
The aspiration to reach the pinnacles of success may initially taste like the heady syrup of illumination, rendering time and effort alike minimal in the mind's eye in relation to the grandeur of the dreams we harbor. Building routines and taking active steps towards the realization of those dreams are no-brainers in the beginning.
After the initial stages of boundless enthusiasm, though, many of us find ourselves losing steam, whether from pure fatigue, cynicism, or complacency. The habits which we have so carefully cultivated towards the cause of success begin to undo themselves and lose their appeal as we gradually lose conviction.
What are the tools to success that every Muslim has at his disposal, as exemplified by the Prophet SAW and his Companions? Where is the line between commitment and burnout? How does one balance worldly and spiritual duties, work and family, and work and leisure? Join us at SPOL 2018 and reinvigorate your quest for success in the search for the answers to these questions.

Ustaz Firdaus Ismail – The virtue of patience
Pushed to the edge, inches away from breaking point. The desire to let yourself tip over, plunge into the unknown and relinquish control of the steering wheel of life to whoever claims it first is overwhelming. Yet, on top of the bundles of wariness, muffled despair and emotional baggage, we add another burden of our own, perhaps even heavier than all the others: that of giving up hope.
Allah says in the Quran, "They were touched by poverty and hardship and were shaken until [even their] messenger and those who believed with him said,"When is the help of Allah ?" Unquestionably, the help of Allah is near." [2:214] It is only the illusions of unending misery and irredeemable life that we inflict upon ourselves, that send us careening over the edge at top speed.
Why is it that what one person considers misery, another considers relief? Is relief always to be found in waiting patiently for its arrival, or is it something to be sought for and chased after in feverish anticipation? Join us for this upcoming SPOL 2018 talk by Ustaz Firdaus Ismail to dive into the depths of what it truly means to be human.

Khalid Ajmain – Failure: The path to redemption
Every time we succumb to our fears, we repel ourselves further and further away from discovering and realizing the full potential with which Allah has imbued in us. In truth, the resistance that dominates our inner worlds when we cave in to the paralyzing fear of failure is the resistance against reliance on Allah, who tells us in the Qur'an: "But they plan, and Allah plans, and Allah is The Best of Planners." [8:30]
Giving in to the fear of failure is, in reality, an indignant refusal to climb the ladder of spiritual and material growth, without realizing that it is trust in His disposing of our affairs that acts as the hidden safety net for every slip of the feet and every lost grip on those same rungs.
Indeed, it is the perception of our self-reliance and independence of will that dooms us to the true failure in our lives: that of knowing our true reality, and in so doing, knowing Him. Join us in this upcoming talk at SPOL 2018 by Khalid Ajmain to rediscover the true value of failure.

Day 2: 30th Dec 2018, 9am – 1pm
TOPICS:
Shaykh Abdul Aziz – Nurturing Children in Spiritual Growth
Few experiences in life are as simultaneously spiritually catalyzing and daunting as the experience of parenting. The sheer weight of the responsibility of cultivating the holistic growth of another human being at their most vulnerable and malleable age can never be overstated. Childrearing might perhaps be a skill that is best learnt by doing, but it is crucial to ground this learning curve with a solid understanding of the Prophetic guidelines to raising righteous children and nurturing their spiritual growth.
How is discipline understood in the context of children in Prophetic teachings? What are the methods the Prophet SAW taught us to instill adab in children? How can we raise mindful children in an age where the entitlement mentality seems to reign unquestioned? How does one best protect one's children from the numerous spiritual pitfalls of the modern world without coddling them and falling into helicopter parenting.
Join us for this talk with Shaykh Abdul Aziz at SPOL 2018 to explore the different meanings, philosophies, and methodologies of Prophetic parenting.
Fara Zainal – Managing Expectations, Mindful Parenting
No parent would want to give their child anything less than the best when it comes to providing for them and bringing them up, but it is precisely for this reason that the realities of caregiving need to be discussed with a view to Islamic spirituality.
Herein lies a hidden truth: if Allah, in His Infinite Knowledge, has already arranged so meticulously for each life to encounter the best possible outcome at every turn, how could we in all our flaws hope to rely solely on ourselves and our own limited knowledge in becoming and embodying "The Good Parent"?
How does one come to terms with being granted a special needs child? How can a parent who is struggling with finances raise a child who understands that money isn't everything? How does one divide love, care, and attention equally among all the children if some need more than others? Gratitude will liberate you from the enslavement of expectation, but how does one practice gratitude as an embodied state of mind, heart, and soul when caregiving becomes overwhelmingly difficult, or when one has just lost a child?