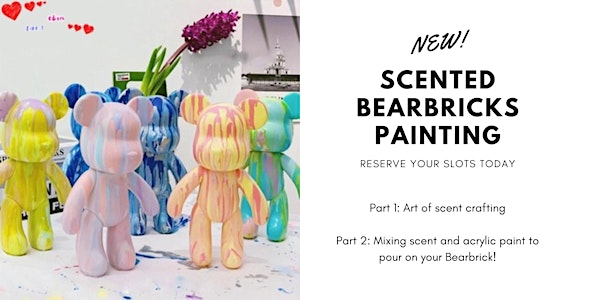 Scent Crafting with BEARBRICKS Acrylic Pour Workshop
Learn the art of perfume blending and blend your scent together with your acrylic paints to pour and design your own BEARBRICKS!
When and where
Location
23 Bali Ln 23 Bali Lane Level 2 Singapore, 189859 Singapore
Refund Policy
Contact the organiser to request a refund.
Eventbrite's fee is nonrefundable.
About this event
In this workshop, you'll create a beautiful smelling and aesthetically painted stunning masterpiece - Your Very Own Scented BearBrick!
BEARBRICK SIZES: 23cm (*popular), 33cm, 53cm, 75cm
Bookings: WhatsApp 88931725 if you have a specific time or date in mind OR for corporate enquiries.
Duration: 1.5 hours
Location: 23 Bali lane, level 2 (S189859)
There are 3 parts to this workshop:
Part I: The Art of Perfume Making
1) We'll introduce you to the history of the world of Fragrances/essential oils
2) You'll get to smell some unique and rare oils to add to the fun & pleasure of the experience which would evoke your senses and awaken nostalgic moments in your life.
3) With a variety of fragrance and essential oil options to choose from, together we will explore and break down the ingredients, their scent profile and usage in your daily life. We will further assess how fragrances are built and their natural ratios.
4) You'll find out how everyday brands have used scent marketing to manipulate and induce certain behaviors in consumers such as getting you to spend more money.
5) You will then sniff all the oils and select the ones you enjoy (based on what your brain tells you, preferences and purpose of what you would like your fragrance to do.
6) Our scent-engineers will guide you throughout the process of selecting, formulating and eventual blending of your fragrance concoction (using apparatus provided).
7) Tadah! You would have created your very own one-of-a-kind customized scent.
Part II: Blending scents with your selected acrylic colours selection
1) Select from a wide variety of stunning acrylic paint colours of various shades to use for your BEARBRICKS!
2) Once you have selected your colours, you will incorporate and mix in your created scent formula from PART I.
Part III: Scented Acrylic Pour
1) Gently pour each layer of scented acrylic paint over your BEARBRICK. A pleasing marbling effect will be created as the various paint layers ooze over your bear.
2) Your very own scented BEARBRICK creation is now complete.
What you'll go back with:
. Basic perfumer knowledge which would allow you to formulate your own fragrance by yourself and boast about it to your family & friends.
. Your very own customised, scented and painted BEARBRICK!