Description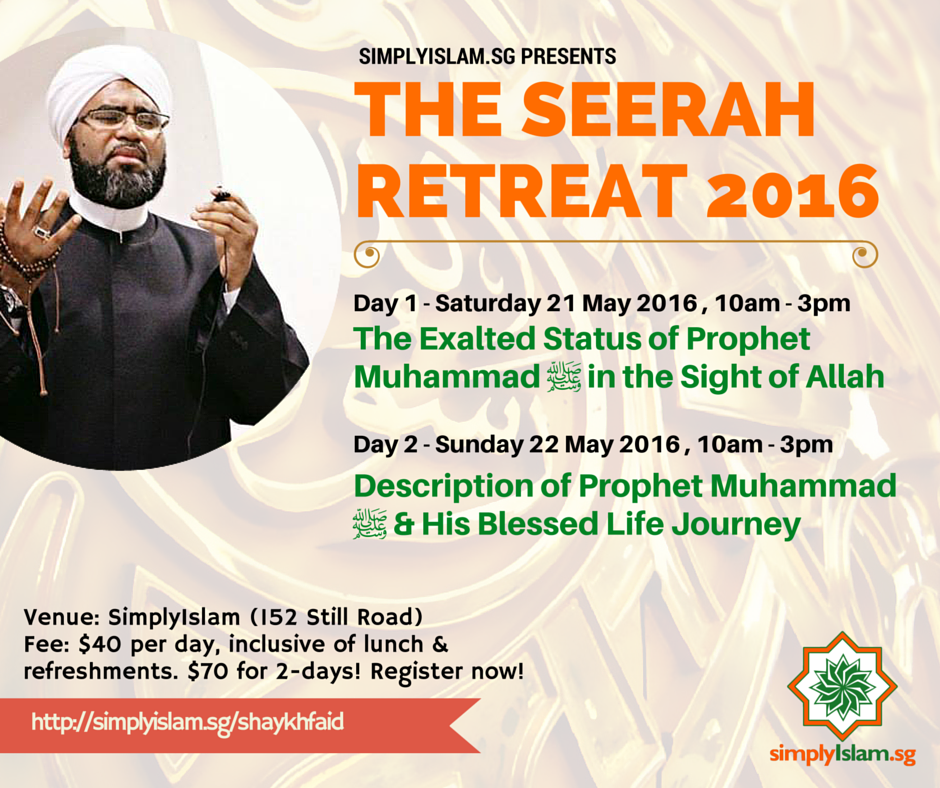 An illuminating 2-day Seerah Retreat with a Seerah specialist, Shaykh Faid Mohammed Said, from London!
Shaykh Faid Mohammed Said is one of the most prominent Islamic scholar based in the United Kingdom whose efforts include teaching and community outreach work. He is the Director of the Larayb Institute of Education (LiFE), Resident Scholar at the Harrow Central Mosque in North London. He is also a Senior Advisor to the Radical Middle Way, an organisation established in the wake of the London 7/7 attacks, which aims to promote a mainstream, moderate understanding of Islam, as well as equip its audiences with the tools to combat exclusion and violence, and encourage positive civic action. Shaykh Faid is an Eritrean by birth and descent, he was educated by some of the most prominent scholars in Eritrea and in Madinah. Shaykh Faid is a qualified Maliki jurist and commentator of the Holy Qur'an, specialising in the Arabic language. He is also a specialist in subjects about co-existence, interfaith, Islam in the West and counter-extremism narrative.
More detail bio at: http://www.simplyislam.com.sg/main/about/our-scholars/shaykh-faid-mohammed-said/
Event Details
Date: Saturday 21 May 2016 & Sunday 22 May 2016
Time: 10 am to 3 pm (Both Days)
Venue: SimplyIslam.sg (152 Still Road)
Fee: $50 per participant only! Inclusive of lunch & refreshments!
Register now!

Topic Description
Every detail about Prophet Muhammad is of great importance for us to affirm our faith and our commitment to Islam, Allah and His Messenger. Understanding the events of Prophet Muhammad's life will also bring clarity to our understanding of the Holy Quran. We cannot begin to love Prophet Muhammad if we do not know about him, his sacrifices, struggles, trials, tribulations, achievements and joys. In fact, learning the Seerah will also benefit us in coping and conducting our own lives, and through the Seerah, we can be hopeful when we are faced with various trials and tribulations.
The Seerah Retreat is also about knowing the status of our beloved Prophet Muhammad in deep and loving detail. We know from Prophetic traditions (hadith) that our faith is not complete till we love Allah's Messenger (s) more than our "father, children and all mankind".
// "Say: If ye do love Allah, follow me [i.e. Muhammad]: Allah will love you and forgive you your sins: For Allah is Most Forgiving, Most Merciful." (Holy Quran: 3:31)
// "You have indeed in the Messenger of Allah a beautiful pattern (of conduct) for any one whose hope is in Allah and the Final Day, and who engages much in the praise of Allah. (Holy Quran: 33:21)
The Seerah Retreat conducted over 21-22 May 2016 (Sat & Sun) will answer the following questions:
<< Saturday, 21 May 2016 , 10am – 3pm >>
"The Exalted Status of Prophet Muhammad ﷺ in the Sight of Allah"

– Who is the Prophet Muhammad ﷺ?
– Why is he called the Beloved of Allah?
– What is his role and why was he chosen?
– Has Allah honoured him? If so, how?
– Can we honour him and in what ways?
– Can we love him too much? If so, what are the limits and restrictions to our honouring him and praising him ﷺ?
– What are the qualities that he ﷺ possesses?
– What is his position in relation to other Prophets that have come before him?
<< Sunday, 22 May 2016 , 10am – 3pm >>
"Description of Prophet Muhammad ﷺ & His Blessed Life Journey"

– Characteristics of perfection & beauty of Prophet Muhammad ﷺ
– Description of the Prophet's physique
– The nobility of the Prophet's lineage & upbringing
– The daily life, marriage & family life of the Prophet ﷺ
– His mercy, compassion, courage, generosity, intellect, humility, patience and outstanding character
– Early life before Prophethood
– Life in Makkah
– Life in Madinah
– Prophetic timeline and significant events of his life ﷺ
Organiser of Seerah Retreat with Shaykh Faid Mohammed Said (2-Days Retreat)
Traditional. Progressive. Dynamic. Experience the Beauty. SimplyIslam.
The As-Siddiq Centre for Islamic Studies Pte Ltd, commonly called SimplyIslam, is a private organisation dedicated towards education, social & community development, literary services and humanitarian services to facilitate progression of society. SimplyIslam is committed to the retention of tradition, culture & esteemed values whilst integrating contemporary challenges facing humanity today.  SimplyIslam's mission reflects its fresh and innovative approaches to communicate the beauty of Islam, whilst being deeply rooted in Islamic Sunni traditions, with a progressive & dynamic approach to modern life.