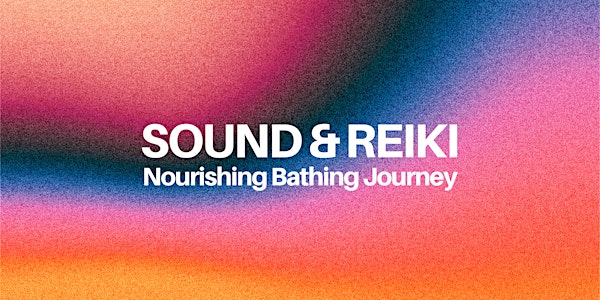 Sound & Reiki Nourishing Bathing Journey
A magical combination of Sound and Reiki Healing to clear, balance, restore and support the human energy system, stimulating self-healing
When and where
Location
Crane Joo Chiat 281 Joo Chiat Road Singapore, 427962 Singapore
Refund Policy
Contact the organiser to request a refund.
Eventbrite's fee is nonrefundable.
About this event
Sound & Reiki Nourishing Bathing Journey
Date: 17 October 2022 (Monday)
Time: 7:30pm - 8:45pm
Venue: Crane Joo Chiat
Energy Exchange:
$75 - $79.63 per person for Crane members
$80 – $84.86 per person for Non-Crane members
(Eventbrite fees apply)
Sound & Reiki Nourishing Bathing Journey is a unique event that brings together the power and the benefits of 2 different practices, SOUND HEALING and REIKI ENERGY HEALING. When combined, its nourishing and transformative effects is exponential, creating a truly transcendent experience!
Journey with us into the space of STILLNESS where surrendering, transformation and healing take place for a deeply relaxing, heart-centered, meditative and immersive occurrence.
Be prepared to be led by therapeutic and ethereal tones of vibrational sound frequencies from the Euphone and other sound healing instruments such as Chimes, Drum, Therapy Harp, Crystal Lyre or Metallophone played by Wendy @ Wenyogaheal. The Euphone is a handmade unique friction activated free bar Sound Healing instrument which when triggered by water, produces rich and enchanting vibrations that resonates through the body stimulating the Alpha and Theta brainwaves moving you to a meditative, dream like or sleep like state.
During the sound bath, Hwee @ NamastewithHwee will be sharing her gifts of Reiki healing to each participant individually. Reiki is a gentle energy healing practice where a practitioner receives Reiki energy from the Universe and transmits the energy onto the receiver. Reiki improves the flow of energy in the body, removes any blockages. It awakens natural healing ability of the receiver. This is healing for the body mind and soul.
Our Sound Bath and Reiki Healing are so much more than just a relaxation experience. As we sink into powerful benefits of meditation, sound and supportive life-force energy (Reiki), our body experiences its greatest healing potential when in a state of deep relaxation. We get to enjoy the restorative benefits of Sound and Reiki Healing. This journey will balance your chakras, clear the density of stagnant energy and create space to raise your energetic vibration.
Dance along the landscape of your soul's journey and share in this energetic release, upliftment and co-creative exchange.
Allow us to really support you to dive deeper into your inner voice, to nourish, retreat, recuperate and reboot!
All are welcome! Come with an open mind and heart and no experience in meditation is required.
Space is limited, book early to avoid disappointment.
You can DM Wenyogaheal directly to make a booking. (No Eventbrite fee and payment can be made through PayNow)
Come in comfortable attire for relaxing and enjoyable lying down experience. Mat and cushion will be provided but you are highly recommended to bring your own yoga towel, pillow, eye pillow, blanket and / or jacket for hygiene purposes and to thoroughly appreciate the session. You are also welcome to bring your own water bottle or bottled water to hydrate yourself. The space will be sanitised before and after the event and sanitising spray and hand gel will be available.
Venue Guidelines:
• Wash or sanitise your hands before entry.
• Do not attend the session and stay at home if you are feeling unwell. If your temperature is 38 Degree Celsius and above or you display flu -like symptoms, you will be strictly denied entry into the space.
• Do arrive at least 15 mins earlier prior to the session to facilitate sufficient time for the check-in process and to settle in. Latecomers may be rejected from attending the session and request for refund will not be entertained.
• Switch your mobile phone to airplane mode or switch it off completely during the session to avoid unnecessary interruptions.
This session is held at Crane Joo Chiat.
Address: 281 Joo Chiat Road, Singapore 427535
Please note this is NOT a soundproof enclosed studio. Some inevitable background noise will occur. Just relax and flow with the journey as it occurs!
Crane members enjoy a special discounted ticket at $75.
Non-members may join us at $80 per ticket.
(Eventbrite Fees apply)
For more awesome Crane content check out wearecrane.com.
Minimum 5 to run.
By Sound Therapist Wendy Lum
(FACEBOOK): www.facebook.com/wenyogaheal
(INSTAGRAM): www.instagram.com/wenyogaheal
Follow Wenyogaheal on Instagram and Facebook to have access to the monthly schedule
By Reiki Practitioner & Yoga Teacher Hwee
(FACEBOOK): www.facebook.com/namastewithhwee
(INSTAGRAM): www.instagram.com/namastewithhwee
IMPORTANT NOTE:
There may also be constant changes to the Covid-19 safe management regulations depending on Government announcement and the Covid -19 situation then. We will adapt and change the safe management regulations accordingly and we seek your kind cooperation to adhere to them.
If you have any questions, you are welcome to email to hellowenyogaheal@gmail.com or directmessage through Instagram or Facebook (Wenyogaheal)