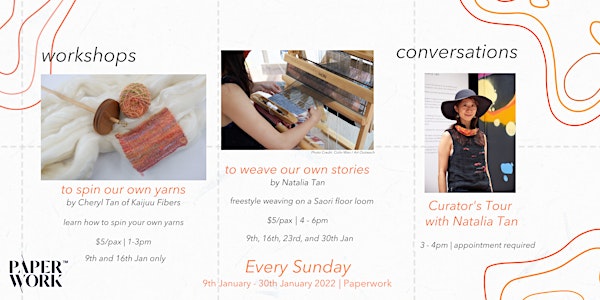 to spin our own yarns / to weave our own stories (workshop)
Learn the art and craft of yarn spinning and Saori weaving through these therapeutic and enriching Sunday workshops
When and where
Location
Paperwork - National Design Centre Bugis | Coworking space 111 Middle Road, National Design Centre 03-01 Singapore, 188969 Singapore
Refund Policy
Contact the organiser to request a refund.
About this event
As part of Reframe, Recharge & Reset - to spin your own yarns and to weave your own stories are fibre art workshops that are intended to seamlessly bring users on a journey to see through the process of yarn spinning, to using the freshly spun yarn to co-create a series of woven tapestries that will be installed at the Paperwork hallway at the end of January 2022.
These workshops are facilitated by Cheryl Tan, artist and Founder of Kaijuu Fibres (@kaijuufibers)and Natalia Tan (@natalia_weaves), textile artist and curator of "to feel our selves again"
Natalia will be using the break between the two workshops to give a Curator's Tour: join us to hear the stories behind the art on display, and get the backstory of the exhibition from the curator herself.
Programme
1 - 3pm: to spin our own yarns (9 & 16 Jan 2022)
freestyle art yarn spinning with drop spindle
- scrap yarn and drop spindles provided
- feel free to bring your own scrap yarn and tools
- please arrive punctually for basic instruction
- suitable for all levels of experience, age 12 and up
southdown wool is available at S$5 per ounce
kaijuu fibers yarn may also be pre-purchased
those who are experienced, please join us anytime!
do note that due to safety distancing, we have limited seats of 10 attendees per session
3pm - 4pm: Curator's Tour (9,16, 23 and 30 Jan 2022)
hear the stories behind the art from the curator of this exhibition
kindly make your booking for this here
4 - 6pm: to weave our own stories (9,16, 23 and 30 Jan 2022)
freestyle weaving on a Saori floor loom, one weaver at a time
we are collectively creating long tapestries to install at the main hallway of Paperwork at the end of January 2022
participants will not be bringing any weavings home, but rather, fond memories of the event and the knowledge that they have contributed to a community-created artwork
feel free to bring your own materials to weave in
- please arrive punctually for basic instruction
- feel free to leave anytime
- suitable for all levels of experience, age 6 and up
do note that due to safety distancing, we have limited seats of 10 attendees per session
IMPORTANT:
- Please note that all attendees are required to be either fully vaccinated or are able to provide a negative ART test if unvaccinated
- Paperwork will turn away any attendees who do not comply to the requirements