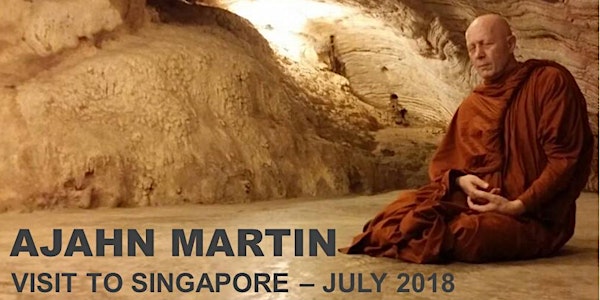 Two-day Retreat led by Ajahn Martin
By 护法苑Nibbana Dhamma Rakkha (NDR)
Date and time
Sat, 14 Jul 2018 09:00 - Sun, 15 Jul 2018 20:00 +08
Location
Palelai Temple 49 Bedok Walk Singapore, 469145 Singapore
Description
Date: 14/07/2018 (Sat) and 15/07/2018 (Sun)
Time: 9am-8pm
Venue: Palelai Buddhist Temple
Teacher: Ajahn Martin

For enquries, kindly please contact Zhanyi @+ 65 9128 5422 through whatsapp.
---
Retreat Schedule (Subject to changes)
8.30am: start of retreat registration
8.45am: briefing
9 – 10.30am: Dharma Talk and Q&A
10.30am – 12pm: Group Sitting Meditation (1)
12 – 1pm: Lunch Break (Vegetarian lunch is provided)
1 – 2pm: Walking Meditation
2 – 4pm: Group Sitting Meditation (2)
4 – 4.30pm: Tea-Break
4.30 – 6pm: Group Sitting Meditation (3)
6 – 6.30pm: Evening Chanting
6.30 – 8pm: Dharma Talk and Q&A
---
Biography of Ajahn Martin Piyadhammo
Ajahn Martin Piyadhammo has lived as a Buddhist forest monk in jungles of Thailand for over 20 years in the Thai Forest Tradition. He stayed at Wat Pa Baan Taad for many years under the guidance of Luangta Mahā Bua.

The Starting Point
He was born in Stuttgart, Germany in 1957, studied electrical engineering and went to the USA to extend his studies in computer engineering with a Fulbright scholarship. After graduation, he worked in a research lab on image analysis and artificial intelligence in Hamburg. He discovered meditation at the end of 1980s.
In March 1991, he decided to give away all his belongings and went into homelessness. For four years, he lived in various Theravada monasteries in England and in Germany.

First Meeting with Luangta Maha Bua
After reading the book, 'Straight from the Heart' from the famous meditation master, Luangta Mahā Bua who was also the abbot of the forest monastery at Baan Taad near Udon Thani, he flew to Thailand and arrived at Baan Taad In 1995. His first meeting with Luangta Mahā Bua made him felt like coming home and it was clear to him that he had come to the right place. He was ordained as a Buddhist monk in December 1995 in the forest monastery.

Tudong Practice
Ajahn Martin went on tudong for two to five months each year and meditating 14 hours every day. He spent his periods of solitude at very remote monastery, spending time in caves located far away from the villages and largely undisturbed.

Even before becoming a monk, he already had a strong base of sati and samādhi. His main focus was on body contemplation and especially 'asubha' practice (seeing the loathsomeness of the body) using samādhi once in a while to rest the citta. In the forest tradition, the practice of asubha or seeing the loathsomeness of the body is one of the key practices to overcome sexual craving and greed and hatred.

Being a Dhamma and Meditation Master
In 2004, Ajahn Paññavaddho, who was responsible for instructing western lay visitors at Wat Pa Baan Taad passed away. The teaching responsibility of lay visitors was shared between Ajahn Dick and Ajahn Martin. After Ajahn Dick left the monastery in 2007, Ajahn Martin carried the sole responsibility of teaching lay visitors the Dhamma and meditation
About the organiser
Nibbana Dhamma Rakkha (NDR) was established with the intentions to protect the Buddha Dhamma and provide a venue for lay Buddhist disciples to practice accordingly.Since it inception, NDR has organized various Buddhist activities, e.g. inviting Buddhist Monks to give Dhamma talks, meditation retreats, Buddhist camps, etc. We aim to educate lay Buddhist disciples in supporting the Buddha Sangha according to the Vinaya, so that the Sangha may practice with a peace of mind.