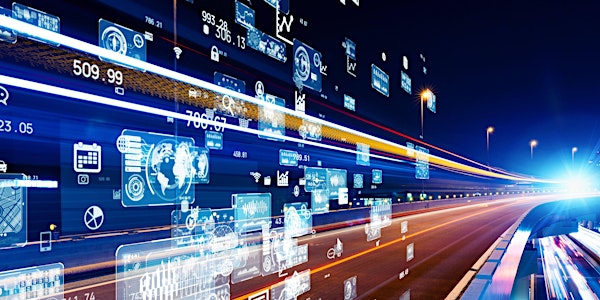 Ushering in a New Age in Services - The Metaverse and its Impact
Singapore Standard Time 8:55 AM-11:10 AM (GMT+08:00)
When and where
Location
Singapore Marriott Tang Plaza Hotel Tang Plaza 320 Orchard Rd Singapore, 238865 Singapore
About this event
Exploring the potential of 5G to power the metaverse and IoB while maintaining a competitive advantage
The pandemic has greatly accelerated digital transformation to strengthen organisational synergy and embrace digitalisation. With the pandemic disrupting almost all activities and operations throughout the world, businesses had to reassess how they connect with one another.
With enhanced reliability and cellular reach, organisations are now seeing the value of 5G.
5G's connectivity for traffic controllers, who play a significant role in roadside safety and AI-powered cars, helps to secure transportation in smart cities. This is accomplished by using 5G to send information in real time, which can monitor, manage and enhance traffic flow.
The Introduction of a New 5G Standard
High Latency could prove disastrous for organisations that are completely reliant on technology.
5G does away with such lags; a 5G network can carry massive amounts of data continuously and without buffering and it performs admirably across all organisations. This new standard of connectivity brings data-intensive tasks like AI and data analytics closer to real-time processing and analysis.
Using Real-Time Data Analytics to Enhance IoB
While everyone has heard of IoT, thanks to vast improvements in data analytics, a new technology called IoB is on the rise. The Internet of Behaviour (IoB) enables organisations to give services to customers based on their preferences, interests and decisions. A behavioural trend analysis makes suggestions based on the consumers' preferences using data analytics.
In a smart city improving citizens' lives requires big data and analytics combined with an understanding of individual preference. With its user information data, IoB can be deployed in government entities to provide solutions to difficult challenges. For example, IoB aids in reacting to specific emergencies by using real-time transmission and residential information.
However, to convert big data analytics into actionable insights at the right time, a reliable connection, such as 5G, is essential.
A New Metaverse Era Boosted by 5G
The metaverse is becoming increasingly popular across the world. Analysts believe that 5G and Metaverse are inextricably linked. The metaverse is intended to link the social side while still allowing for human contact.
This rate of new telecom technologies is mostly driven by data and traffic increase of content like AR (Augmented Reality) and VR (Virtual Reality), which is the essence of the metaverse itself. Self-driving cars and the notion of highways beyond VR were not possible until recent advances in 4G and 5G, and, most certainly, not in the 3G era.
The metaverse enables better communication and open collaboration between the government and the citizens. The new metaverse age with the deployment of 5G can assist the government in boosting its trade and commerce in this new normal.
It could also be used to address issues such as how to cover a city, preferably through virtualisation, with a 5G network capable of supporting a public metaverse infrastructure.
OpenGov Asia is pleased to invite you to an exclusive OpenGov Breakfast Insight that will provide the latest information on 5G capabilities and how they help boost IoB and metaverse innovations in the public sector. This is a closed-door, invitation-only, interactive session with top public sector leaders from Singapore.
OpenGov Breakfast Insights are concise, to-the-point, strategic-level discussions designed to bring learning to the highest level! The unique proposition of an OpenGov Asia Breakfast Insight is the integration of cutting-edge insights from our expert speakers and interactive discussion among the participants.
This unique session will discuss the most recent research and case studies on the key aspects of deploying 5G networks in the public sector for IoB and metaverse:
Increasing the user experience data rate to increase user satisfaction
Handling and maintaining more devices in densely populated locations
Providing for the long-term viability of mission-critical communications
Incorporating 5G technologies for IoB and metaverse
Maintaining corporate agility, effective communication, and collaboration technologies
Building capacity to transform real-time data into actionable insight
Who should attend:
Chief Information Officers 
Chief Data Officers
Chief Information Security Officers
Chief Innovation Officers
Chief Technology Officer
Heads of Data Science
Heads of Analytics