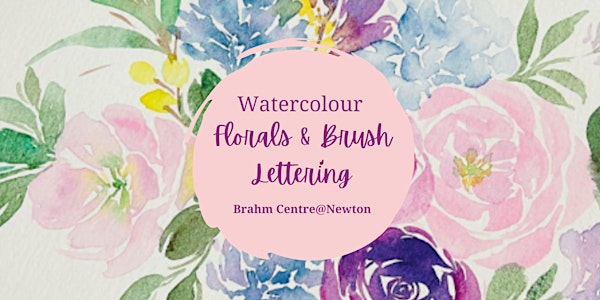 Watercolor Florals and Brush Lettering Course by Kathleen - NT20220804WFBL
Create your watercolor masterpiece with beautiful florals and brush lettering at this course.
When and where
Location
Brahm Centre @ Newton 47 Scotts Road #04-02A Singapore, 228233 Singapore
About this event
Relax and have fun in this course creating a variety of cards - postcards, greeting cards and bookmarks using different watercolour techniques and lettering styles. No prior experience required. You will be guided on basic strokes to connecting the letters.
WHAT?
Lesson 1: Introduction to watercolour techniques, paints, brushes and paper
Lesson 2: Creating simple shapes and tones 
Lesson 3: Learning different types of leaves 
Lesson 4 - 7 :
Learning different types of florals 
Recap on florals and leaves & Introduction to basic strokes for lettering 
Lettering Part 1 (Small Letters)
Lettering Part 2 (Capital Letters) 
Combining florals and lettering into a frame-able piece 
WHEN?
Thursday, 4th August - 2.30pm-4.30pm
Thursday, 11th August - 2.30pm-4.30pm
Thursday, 18th August - 2.30pm-4.30pm
Thursday, 25th August - 2.30pm-4.30pm
Thursday, 1st September - 2.30pm-4.30pm
Thursday, 8th September - 2.30pm-4.30pm
Thursday, 15th September - 2.30pm-4.30pm
Thursday, 22nd September - 2.30pm-4.30pm
Total : 8 sessions
WHERE?
Brahm Centre @ Newton
Materials provided: 
Watercolour Paper, Watercolour palette, Brushes, Brush pen 
Participants to bring from home(Not included in the Art Materials Provided)
- Container for Washing Brushes
- Used Cloth or Tissue(For washing of brushes)
_________________________________________________________________________________________
Course Fee: $280 |$56 for seniors eligible for National Silver Academy (NSA) subsidy*
*NSA subsidy is for Singaporeans and Permanent Residents aged 50 and above.
In addition to NSA subsidy, course fee may be offset by SkillsFuture Credit (SFC).
First, course participants are to make payment for the course through Brahm Centre Eventbrite page.
They should claim with SFC before the course start date through the SkillsFuture portal.
Brahm Centre will reimburse the amount that is successfully claimed upon receipt of the funds from SFC.
Notes:
Please note that payments for courses are non-refundable.
There are no make-up lessons if you miss any session.
If you miss the first session, you are allowed to proceed with the course. However, the trainer is not obligated to do a recap during the second session.
Trainer Bio
Kathleen is a talented artist whom work mainly on watercolour as a medium. She loves to explore all kinds of colourful mediums and found herself to have great interest in painting florals. Recreating what she observes in nature and transforming those inspirations into watercolour art pieces.
Her works include designing cards, notebooks, bookmarks, painting on wallet, pouches and bags using acrylics and exploring into resin art. Not only does she combine both watercolour and calligraphy into her art pieces, she also explores different techniques such as foiling and embossing.
She holds private classes/workshops with various students across different ages as she believes that in arts, there are no limits.