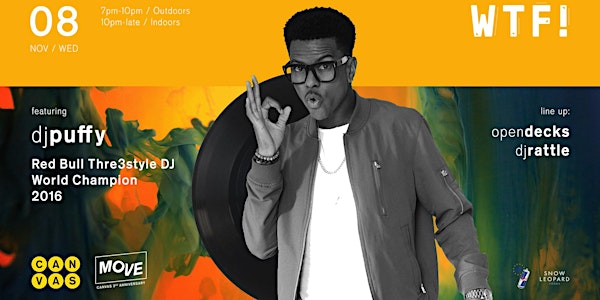 WTF! presents DJ Puffy
When and where
Location
Canvas Singapore 058416 Singapore
Description
Red Bull 3Style is like the Olympics of DJing. So you know that when we name drop a Red Bull 3Style Champion, we're not joking around.
This special edition of W T F !, we are pleased to present DJ Puffy, Red Bull 3Style World Champion. How often do you get to say that you caught a world champion in the flesh?
Celebrated as the Barbadian DJ who shook the world with an energy as vibrant and infectious as the Caribbean hits that spin from his Technics 1200s, Andre "Puffy" Parris holds the coveted title of Red Bull Thre3style World Champion From Wildcard Entrant to subsequently emerging as the most skilful DJ of this era, this gifted turntablist and trailblazer has excelled by creating a unique Caribbean-EDM sound that captivates his thousand-fold audiences.
His musical flair and mash-up prowess transcend geographical and language barriers with international audiences that include barriers with international audiences that include both the you and young-at-heart, with a fan base that spans the Eastern Caribbean, French Antilles, Central America, and North America.
--
*interested parties email kenneth@canvasvenue.sg