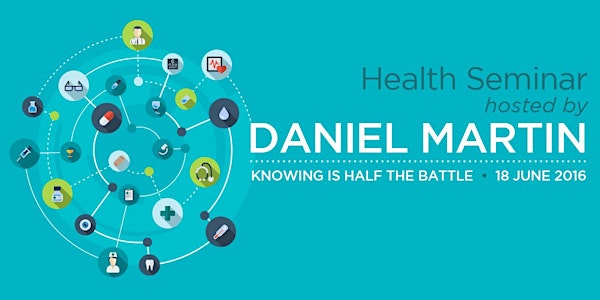 Knowing Is Half The Battle - Hosted by Daniel Martin
By Mount Elizabeth Hospital
Date and time
Sat, 18 Jun 2016 13:30 - 16:00 +08
Location
Mount Elizabeth Novena Hospital, Level 1 38 Irrawaddy Road 329563 Singapore
Description
Programme Highlights
1.30pm
Dr Kenneth Guo, Cardiologist & Physician
Mount Elizabeth Hospitals
How Do I Know If I Have Heart Disease?
Heart disease is a major health risk many of us are facing today. Although most patients have warning signs of serious heart conditions such as chest pain or shortness of breath, many more may be developing heart disease without knowing it. Recognizing the early signs, symptoms and risk factors of heart disease will help us get early treatment and prevent more serious health problems. This talk will explore the warning signs of heart disease, common investigations and treatment options to restore our health.
2.15pm
Ms Kandyce Ong, Claims Advisor
Mount Elizabeth Hospitals
How Do You Pay $0 for a Mount Elizabeth bill?
2.45pm
Dr Charles Tsang, Senior Colorectal Specialist
Mount Elizabeth Hospitals
Why Your Colon Health Counts?
Did you know that those with a family history of colorectal cancer are 2 times more likely to develop it? Find out more from our specialist on the causes of colorectal cancer, prevention tips, importance of early screening and its treatment options.
3.30pm
High Tea
Knowing Is Half The Battle's Health Seminar Event FAQ
Q1: Where can I park my vehicle and will I be given a complimentary parking coupon?
A: You may park your vehicle at the parking lots within Mount Elizabeth Novena Hospital itself. Alternatively, you may park your car at Square 2 or Velocity@Novena and walk over to our premises where the event will be held. There will be no complimentary parking coupon given.
https://www.mountelizabeth.com.sg/plan-your-visit/getting-here
Q2: Will there be a goodie bag given to all participants?
A: Yes. Goodie bags will be issued to all participants at the end of the event. We would require all participants to kindly assist in filling up the feedback form and pass it to our staff to exchange for a goodie bag upon leaving.
Q3: I made some spelling errors / I keyed in some of my personal details wrongly during registration. How can I amend the changes?
A: You may call our hotline at 9123 0627 during weekdays (Monday-Friday), 10am to 6pm and our friendly staff will assist to your enquiries to make the necessary changes.
Q4: Would I be able to get a refund if I didn't turn up for the event?
A: There will not be any refund given once tickets transaction has been approved.
About the organiser
Centred in one of Asia Pacific's most vibrant cities, Mount Elizabeth Orchard is home to the largest concentration of cardiologists, cardiac surgeons, neurologists and neurosurgeons from across the region.
We offer a wide range of medical services in-house, helmed by leading specialists and staff. A private hospital with 345 beds, we have also received accreditation of quality care by the Joint Commission Instituition (JCI), as well as the Singapore Quality Class certification.