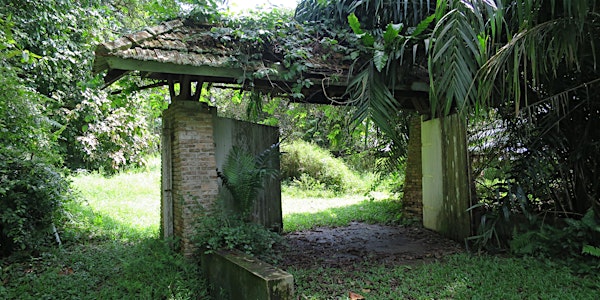 The Old Gate at Kampong Wak Hassan
Once upon a time, Kampong Wak Hassan was a sleepy rustic village. It was a beachfront village blessed with an idyllic setting...
When and where
Location
Sun Plaza 30 Sembawang Drive Singapore, 757713 Singapore
About this event
The coastal scenery and village lifestyle was a memory dating back to the good old days when life was a lot more carefree. Those were the days. Today, Kampong Wak Hassan is a modern residential landed real estate. The demographic has changed. A new kind of beauty has taken its place. It is still beautiful though. The old-world charm is not entirely lost – for not too far way, an old part of the old world exists. The old coastal path which the villagers used is still being explored by the new young adventurers who come on the weekends hoping to catch a slice of the old-world charm.
The highlight of the day is the old relic of an old gate of a former beach front bungalow. This bungalow used to belong to the former boss of Cycle & Carriage. It is rumored that there were more than a few beach front bungalows here. As if to remind us of the old beach front bungalows, our tour will include a close up look at some 8 new beach front bungalows along the coast overlooking the Straits of Johor. You will love the slow walk through some old village roads. You may even want to do lunch at the legendary Woody Family Café. If you do, don't miss their Buffalo Wings!
We meet at 8.30am on the 28th August 2022 (SUNDAY), at the Sembawang bus terminal for bus service 882 – which will take us all the way to Sembawang Beach where our tour will begin. The bus terminal is just beside SUN PLAZA (which is beside Sembawang MRT).
Note:
We do the world wide practice of tipping at the end of the tour.
We also reserve the right to accept or reject habitual No Shows.