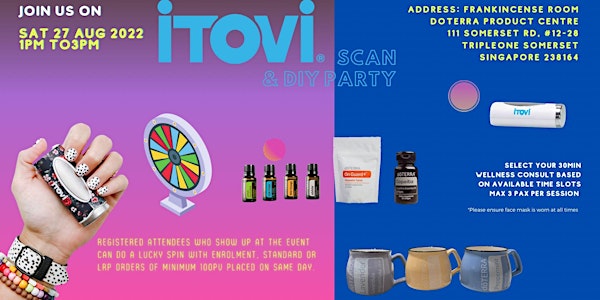 Create Your Own Unique, Personalized Wellness Plan
Create Your Own Unique, Personalized Wellness Plan That Suits YOUR needs, situation and well-being
When and where
Location
111 Somerset Rd 111 Somerset Road Singapore, 238164 Singapore
About this event
There are 5 sessions of 30 minutes each that day, but we can accommodate max. 3 persons for each of them. If your preferred time slot is already taken up, please select an alternative one. Sign up now to avoid disappointment.
Each person is different. So it's important for your well-being that you use products that exactly suit YOUR OWN needs and situation. During this session we will help you to create your own unique, fully personalized Wellness Plan that suits YOUR needs, situation and well-being.
We do this with modern technology and AI. The iTOVi Scanner combines galvanic skin response (GSR) electrodes and Bluetooth technology to measure small changes in the electrical conductivity of your skin and the sophisticated app will turn the results into a personalized report for you.
Speaker: Elizabeth Ho, Author, Scent Alchemist, Certified Essential Oil Therapist & Coach